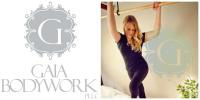 Notification of expiration:
2060 N Collins Blvd. #102
United States
Barefoot and traditional massage therapy.
Ashiatsu!
Gaia Bodywork offers the best massage, bodywork, and aromatherapy services in the Dallas area.
With over a decade of experience, Hillary Arrieta LMT040051 is your stress management expert.
At Gaia Bodywork PLLC, You will experience a massage blended with meditation, aromatherapy, heat, and pressure customized to your wishes, along with strategic additions that aid in bringing you to a blissful state.
Choose from deep to light meditational bodywork.