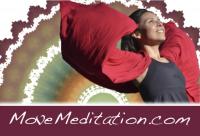 Notification of expiration:
Move Meditation was created by Ana Shoemaker as a way to deepen your awareness practice and build your vitality by sensing into the body mind connections in your life.
Move Meditation helps you to bridge awareness and embodied pleasure, through movement and expressive arts. Learn how to live artfully with open and active attention through any experience.
Ana Shoemaker offers classes and series in 'Osho Active Meditations', and 'Movement Ritual'. She also provides private sessions in the Tamalpa "Life/Art Process" to encourage creative exploration and connectivity to our relationships.
Ana Shoemaker also has a natural talent for organizing spaces in homes and offices and consults with the creative entrepreneur to bring "Calm Through the Chaos". She incorporates her move meditation practices into practical and functional services. She offers professional organizing and virtual assistance in creating the space you need to manifest dreams.