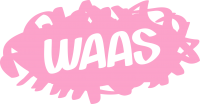 Notification of expiration:
WAAS is a studio collective designed to support the exemplary artists who create to communicate social and environmental needs, connect their communities with global perspectives, and lead the conversation in healing and health. 
Curated through the lens of transformation, WAAS is furthering its identity as Women Are All Stars: a home to healing women artists redefining their identities, collectively growing from past experiences, and learning how to co-create. Like Founder Brandy Michele Adams, who is personally dedicated to self-sustainment, WAAS  is exploring the Art of Wellbeing through a diverse curriculum to support artist's professional-creative careers and personal development, through workshops, project-based studio space, and educational forums.