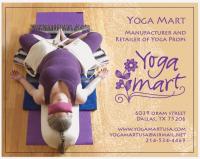 Notification of expiration:
Retailer of yoga props. Many items are hand made in the store. Half of the stores inventory is made in Dallas, TX.
Hand made items include:
Hand rolled cotton bolsters and Pranayama pillows.
Silk eye bags filled with lavender and flax seed.
Mat carrying straps and mat bags.
Straps in a variety of lengths.
Sand bags in a variety of sizes, some in print, others in solid colors.
Wood blocks, slant planks, Halasana boxes, wedges and other wood props.
Buck wheat hull sleeping pillows, Zafus and meditation cubes.
Other items available for purchase include:
Wide variety of yoga mats. Kushi grass mats.
Mexican blankets.
Clothing for men and women both for practice and street wear.
Books on yoga asana and philosophy, most published in India or from small publishing houses, most are hard to find.
Buddhist jewelry from Thailand, Burma, Laos, Cambodia, India and other countries.
New merchandise weekly. Come by and see the selection.