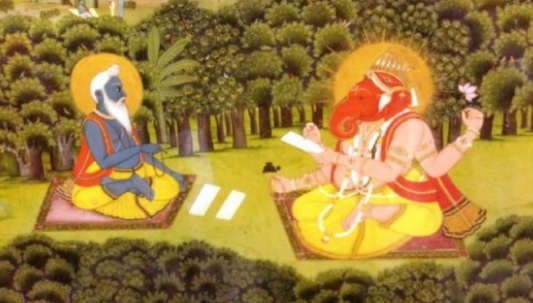 Event Dates:
Friday, February 22, 2019 - 06:00

to

Sunday, July 21, 2019 - 06:00
Price:
One time $100 registration fee + $1400 for upfront payment for all four modules
Vedic Astrology (Jyotisha) is a sister science to Yoga and Ayurveda that embraces the entire human being in order to bring health and happiness into our lives. It is the study of the influence of light on all living and non-living beings, and specifically, light coming from the stars and planets and its affect on our bodies, minds, and even health. Vedic Astrology/Jyotisha is a constant dialogue between Karmic destiny and free will.
In this four Months (one weekend/ month) training program you will learn about the fundamentals of Vedic Astrology to aid in your own journey of health and healing. After the completion of this program you will be able to apply its Vedic principles in your daily life, in a yoga practice, and have better understanding of the people and world around you.
Program Overview:
Jyotish, its aim and purpose, and, relationship with Ayurveda
12 Planets, (Grahas), Rashis (Signs) & Bhavas (Houses) and the Zodiac signs
The structure of a Birth Chart both North Indian and South Indian.
The significance of 12 Houses and their impact in various areas of our lives.
The 12 Signs and how they bring out different tendencies.
9 Planets and their personalities
Relationships of the Planets, in their interactive combinations.
Karakas or Significators for different contexts in terms of Planets.
Dashas, Bhuktis and Gocara: Time cycles, Transits and how they define a dynamic interpretation to the static birth chart.
Learning how the three Doshas and Gunas feature in Vedic Astrology (Jyotish)
Training Dates:
Module 1: Feb 22-24, 2019
Module 2: March 22-24, 2019
Module 3: May 17-19, 2019
Module 4: July 19-21, 2019
About this Presenter:
Arpita is a registered yoga teacher with Yoga Alliance and has had the privilege of studying under very talented international teachers such as Rod Styker, Dharma Mittra, Judith Lasater, Lesli Kamainof, Doug Keller, Pandit Rajmani Tigunait and Ayurveda Guru Dr Vasant Lad. Arpita has earned BS degree in Nutrition and MBA from Texas Woman´s University. She is also 500-hour registered yoga teacher and Ayurveda Practitioner
Besides her regular teaching schedule, Arpita also offers private yoga therapy, one on one nutrition counseling, Ayurveda consultation, Yoga TeacherTtraining, Ayurveda Lifestyle Counselor Training and Yoga retreats.  Arpita feels tremendous gratitude to all her teachers for supporting her growth and is thankful to her students for giving her this opportunity to share the journey of Yoga and Ayurveda.
NAMA Certified Ayurvedic Practitioner, C-IAYT Certified Yoga therapist, Ayurvedic Yoga Therapist, E-RYT-500, BS in Nutrition & MBA - As an Ayurveda practitioner and Yoga Teacher, Arpita's intention is to integrate the sister sciences of Ayurveda with Yoga to provides a unique class with a holistic approach to the mind, body, and spirit. For Arpita, sharing the beauty of ayurveda, nutrition and yoga with her clients is truly a gift in her life.
Light on Life by Hart Defouw