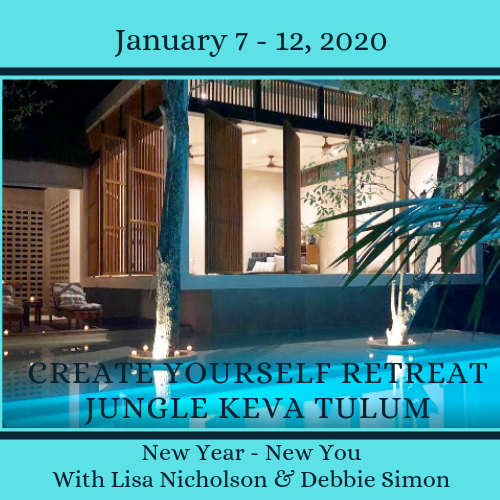 Event Dates:
Tuesday, January 7, 2020 - 03:00

to

Sunday, January 12, 2020 - 11:00
Event Presenter(s):
Lisa Nicholson&Debbie Simon
Blue Anjou Yoga & Meditation Center
Location:
Create Yourself Retreat - Jungle Keva Tulum
Calle 3 poniente Region 15 Manzana 3 Lt 07
Mexico
Price:
$250 non-refundable deposit. $1895 double occupancy per guest. $1795 triple or quad per guest. Airfare not included.
January 2020 only happens once! Join us in making memories of a lifetime at our Jungle Keva Tulum - Create Yourself Retreat with Lisa Nicholson and Debbie Simon.
Jungle Keva is a 'small village'of guest lodges located in beautiful Tulum Mexico. It has been listed as one of the top rated Boutique Hotels, and has been featured in many publications including French Vogue. Here are just a few reasons why:
Nestled in the heart of the jungle, a leisurely bike ride from the famed beaches of Tulum, awaits a refined sanctuary created to awe and nourish the soul. Kevala, a Hindu word meaning peaceful, pure, and simple, impeccably describes Keva's vernacular Balinese design concept.
Eco-friendly features include Keva's own well and state of the art sanitation treatment system. Each divine lodge has been positioned to capitalize the cooling trade winds. Guests live in perfect harmony with nature, while still having access to every modern convenience. Comforts such as lavish bamboo mattresses, pillows and sheets, free Wi-Fi and air conditioning are available. Purified rainwater is provided for drinking, and you will dine from a gourmet menu created from wholesome, regional ingredients.
Create Yourself Retreat is about self-inquiry, focusing on what it is you truly desire, in which direction you want this New Year, and your life, to take, and implementing tools and techniques to help manifest your hearts deepest desire. This is a very exclusive and intimate environment so the group size will be limited.
Your Retreat will include:
Opening Circle & Fire Ceremony, journaling, understanding the concept of Sankalpa and intention setting, creating affirmations and Sanskrit Mantra to use in manifesting your desires, vision board creation, and Closing Circle Ceremony.
5 nights in Jungle Keva tulum
4 dinners (First arrival evening on your own. Sat. evening dinner is poolside with live local music)
5 breakfasts
4 lunches (inside or outside depending on excursions)
Afternoon Chai and snacks
Non-Alcoholic Drinks (alcohol is available)
Arrival gifts from local craftsman
Daily Yoga and Meditation
Off-site excursion & on-site experiences
Lodging:
5 Luxory Lodges equipped with indoor/outdoor showers, desk, french press, mini fridge, safety deposit bos,premiun organic toiletries.
Lodges 1 - 5: Each sleeps 4 guests. Main floor - 1 king bed. Upper loft - 2 singles.
Lodge 2: Sleeps 3. Main floor - 1 king bed, 1 single.
Lodges 3 & 4: Each sleeps 4.Main floor - 1 king OR 2 singles.Upper loft - 2 singles.
Registration deadline is October 7, 2019. Register online under January Workshops:
www.blueanjou.com
.
Cancellation Policy:
Clients may cancel their retreat prior to October 7, 2019. All deposits received are non-refundable.
Contact Information:
Lisa Nicholson
469-645-8555