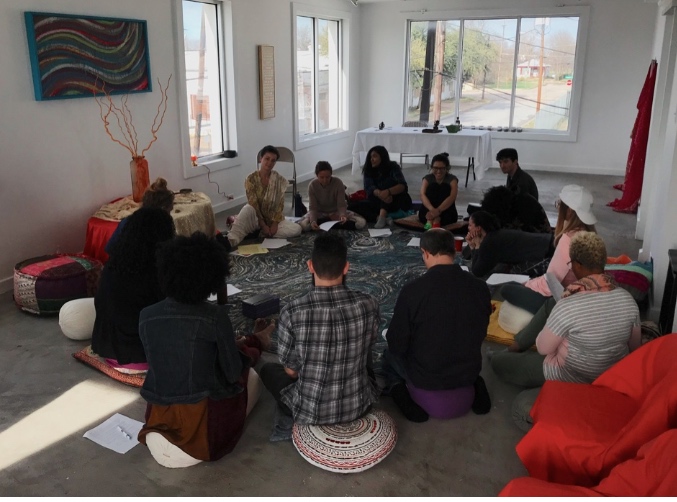 Event Dates:
Saturday, February 9, 2019 - 02:00

to

Sunday, June 30, 2019 - 04:00
Prani Lifestyle Consulting
Price:
$25 Two Hour Workshop / $50 Four Hour Workshop
Whether you've just finished a Yoga Teacher Training and need more, or if you just want to learn how to live a conscious lifestyle, this program will give you the breadth and depth of knowledge you seek. This is an education program to give you the tools you need to fill a more fulfilled life, with better health and more abundance.
Schedule:
A Series of Weekend Workshops and Weekend Retreats
feb 9 - The History of Yoga & Tantric Hatha Yoga - From where have we come and where are we going? At Atma Bhakti - 2 Hour Workshop 2-4pm $25
feb 23 - Ayurveda Foundations Clinic / SelfCare Saturday - 2-4pm at Atma Bhakti
apr 13 - Develop your Personal Practice through Tantric Alchemy at Atma Bhakti - 4 Hour Workshop $50
may 3-5 - Yoga & Well Living Staycation at Mariposa - Learn to live a Yoga Lifestyle including cooking classes, practice workshops, ayurveda education, sound healing and more - $525 for Lakehouse $225 for Tent Campers -includes food & lodging. Co-hosts Denae Richards (Dallas Sound Institute) and Lavanga Latika (Atma Bhakti)
About this Presenter:
Kirsten Joy teaches Kundalini Tantra combining movement with breath, meditation and more to bring you to a more balanced state of body, mind and energy. She studies yoga science and philosophy through the Himalayan Institute and continues her Ayurveda studies in Dallas with Om Yoga Journey.
Owner of Living Yoga Dallas and founder of PraniLife, she hopes to help others develop the tools for a conscious lifestyle through customized choices in diet, exercise, and lifestyle routine, accessible at any phase of life.
She teaches publically at the refuge meditation in Expo Park, and hosts workshops and retreats. Contact her directly for privates and partner privates.
Read more on her LivingYogaDallas.com profle and go to PraniLife.com to learn more about Yoga, Ayurveda, Tantra and Vedanta.