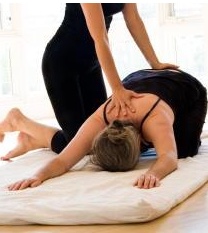 Event Dates:
Tuesday, May 15, 2018 - 10:00

to

Wednesday, July 11, 2018 - 11:15
Location:
WAAS - Art of Wellbeing Studios
United States
Join us for a slow flow, custom crafted practice for healing body, mind and spirit.
Enjoy a complete practice with movement, breath work and deep relaxation to improve sleep, increase digestive fire, improve your skin tone and calm your nervous system.
If you're recovering from a physical or mental injury, we have a practice for you!
Look for World Peace on Logan Stree and you've found us.
About this Presenter:
Kirsten specializes in Yoga for Anxiety & Depression, Yoga4Cancer, Yoga Nidra, Ayurveda, and psychotherapeutic yoga therapy.