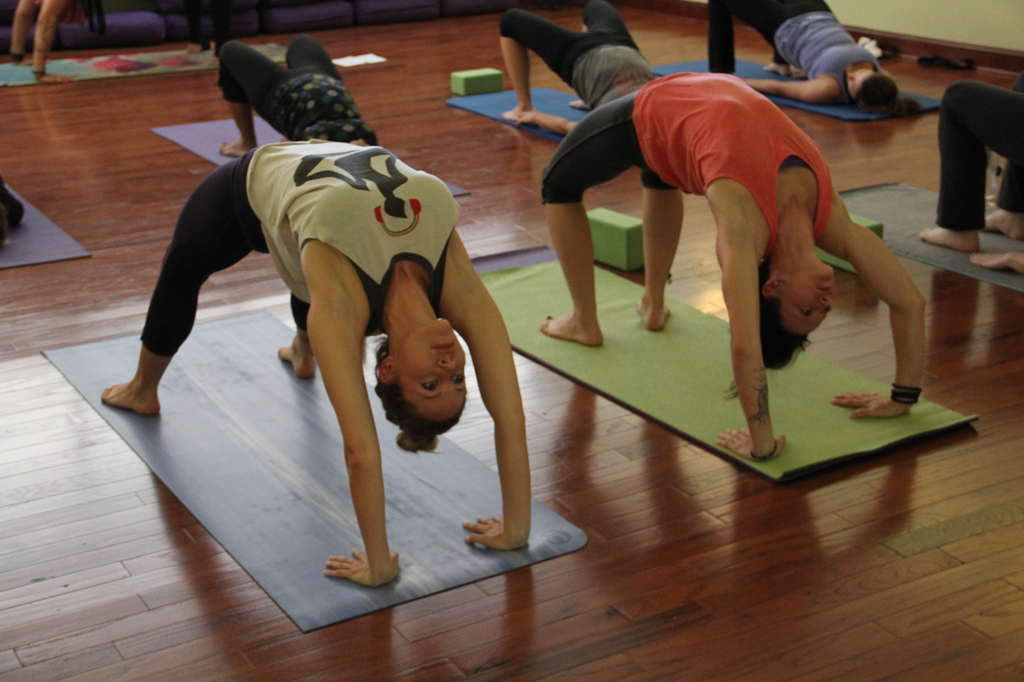 Event Dates:
Monday, September 30, 2019 - 08:00

to

Friday, October 25, 2019 - 05:30
Location:
6464 E Northwest Hwy
#345
United States
Techniques Training/Practice: Includes asanas, pranayamas, kriyas, meditation and other traditional yoga techniques. The training includes analytical and guided practice of the techniques.
Methodology: Includes principles of demonstration, observation, assisting and correcting of postures. How to address the specific needs of individuals. Business aspects of teaching yoga.
Anatomy and Physiology: Human physical anatomy and physiology (bodily systems, organs, etc) and also included is energy anatomy and physiologh (chakras, nadis, etc). Includes both the study of anatomy and physiology along with its application to yoga practice (benefits, contraindications, healthy movement patterns, etc).
Yoga Philosophy, Lifestyle and Ethics: Includes the study of yoga philosohies (such as the Yoga Sutras, Hatha Yoga Pradipika and Bhagavad Gita), yoga lifestyle (concepts of dharma and karma), and ethics of yoga. Understanding the value of teaching yoga as a service and being of service to others (seva).
 
Practicum: 
Practice teaching as the lead instructor (does not include assisting, observing or giving feedback)*
Receiving and giving feedback
Observing others teaching**
Assisting students while someone else is teaching
Schedule:
Upcoming 4 Week Intensive
Monday thru Friday 
from 8 am – 5:30 pm
September 30, 2019- October 25, 2019
About this Presenter:
Evelyn Van Antwerp
Evelyn started practicing yoga many years ago because of its benefits for the back and neck difficulties she was experiencing, and soon discovered that the benefits were far greater than just addressing her physical well-being. For Evelyn, yoga has become an avenue for self-knowledge, self-love, awareness and physical well-being. Evelyn has a Masters in Curriculum, with sixteen years in education teaching students and adults, becoming a certified yoga instructor was the perfect choice for her. Evelyn has studied with Yoga Acharya Tej Monga, Judith Laseter, Leslie Kaminoff and Amy Matthews.
She received her 200-hour and 500-hour Yoga Alliance Certification through Namah Shivaya Yoga. Since yoga is very much a personal experience and one based on levels of ability, her endeavor is to teach to the needs of individual students by modifying poses. Her classes are designed for both newcomers and seasoned practitioners. Each class focuses on proper alignment and breathing techniques, with an emphasis on core body strength. Her goal as an instructor is for all of her students to experience the full benefits of yoga.
Erin Brandao
Erin Brandao (E-RYT 500 )
I took my first yoga class in college in the early 2000's and all I can remember about it is that I always fell asleep in savasana, the resting post at the end of every class. An workout that ended with a nap sounded pretty good to me! Over the next few years I flirted off and on with yoga until it became an integral part of my life and recovery after the death of my mother. The first time someone suggested I could be a teacher myself, I laughed and said no way. Good thing the Divine has a sense of humor too, because in 2011 I became certified through Namah Shivaya's teacher training program and now I serve as the lead trainer for our weekday program. What I love most about yoga is its diversity. There is a yoga style, class, or teacher for everyone. I teach active physically challenging classes like ashtanga and all levels flow, relaxing and accessible options like restorative and gentle, as well as a weekly yoga class just for kids! Yoga has given me so many gifts, from physical health to mental peace to spiritual awakening, and I would love to share the gifts of yoga with you as well. Sign up for a group class or contact the studio to book a private lesson with me and begin your own journey today!
Contact Information:
Evelyn Van Antwerp
972-532-9074