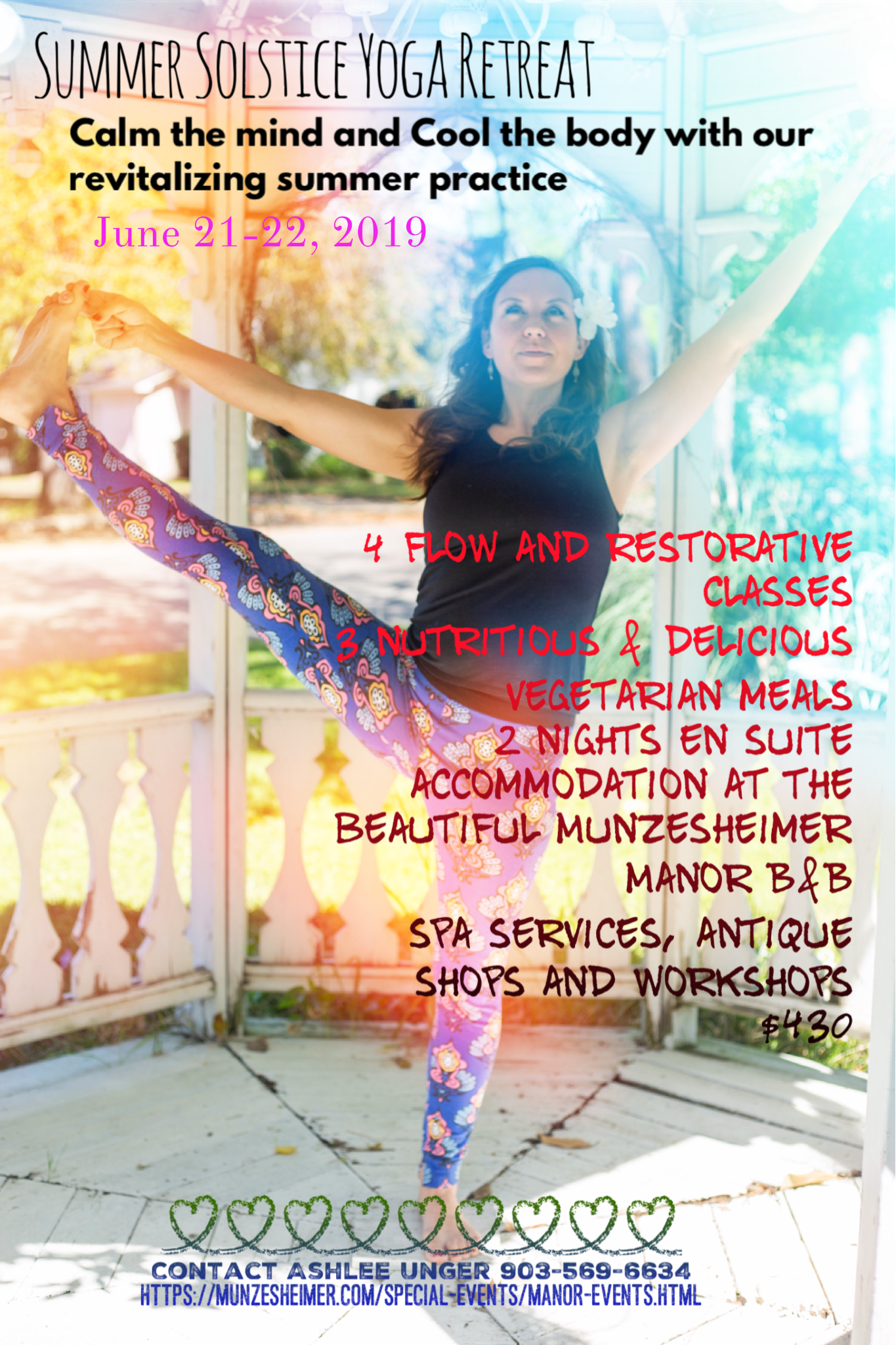 Event Dates:
Friday, June 21, 2019 - 03:00

to

Sunday, June 23, 2019 - 11:00
Come celebrate the summer Solstice and learn how to cool down your yoga practice by attending our first ever yoga retreat at Munzesheimer Manor B&B, hosted by owner and innkeeper Ashlee Unger. This retreat is designed to relax the mind, cool the body and allow time to explore the inner self away from city life and work. Learn about the solar plexus chakra and ways to keep the energy flowing. Enjoy our homemade, local grown meals that will inspire the palet and encourage self love and Experience true relaxation through our restorative and flow yoga, guided meditations and visualizations. Leave ready for summer feeling refreshed. 
Schedule:
June 21st
3-5:30- check in,wine & hor dourves 
5:30pm- introductions and orientation
6pm- Dinner
 8pm- restorative yoga session with Tammy
8:30pm- guided meditation with Ashlee
June 22nd
7:30am - tea/coffee service & optional sun salutations session in the courtyard
8:30am- breakfast in Manor dining room
9:30am- solar Plexus chakra workshop
11am-vinyasa flow yoga 
12:30pm- lunch ( on your own in town) 
12:00-5pm- 60 min spa service (included in price) and your choice to shop Mineola's antique shops, hike at the Nature Perserve, wine tastings at Grand Oaks Winery or relax at the Manor.
5pm-6pm- chiminea fire circle
6pm- Dinner & wine
8pm- Hatha yoga flow 
9pm- guided visualization with Ashlee
June 23rd
7:30am- coffee/ tea service 
8:30am- "beat the heat" yoga sequence 
9:15am- "breath of fire" practice
9:30am- breakfast
11am- checkout
About this Presenter:
Ashlee Unger has been a practicing yogi for over 10 years. Though she is not formally trained, she has learned yoga through many different cultures in many different places, allowing her to experience yoga in different forms. These experiences have taught her that yoga is a lifestyle and once a yogi always a yogi. She truly loves sharing her practice with others and never stops learning all the ways one can move and expand. 
What to Bring:
Your mat, two days overnight bag, money for Saturday shopping ( optional), an open mind and heart.
Cancellation Policy:
1 month prior to event for deposit refund