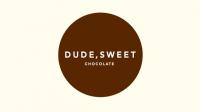 408 W. 8th St. – Sweet #102
United States
Notification of expiration:
At Dude, Sweet Chocolate we concoct, manufacture, distribute, and retail dark chocolate inspired creations as our core business. Our product line is very fluid and seasonal, but usually contains fudges, truffles, toffees, nuts, artisan chocolates, and basically anything else our chef decides to improve by introducing it to cacao.
Dude, Sweet Chocolate traces its roots to a dive bar just south of downtown Dallas, Lee Harvey's, where co-founders Chef Katherine Clapner and Redding May (CFO) were regulars. Good times and good ideas brought forth a celebration of chocolate, from savory to sweet and all places in between. Intense focus on quality and sustainability are key for Katherine. You will not find a single bow, ribbon, or shiny box on your Dude, Sweet.
Katherine is a Rock & Roll Yogi who is bringing sweetness and light to the metroplex - just look around and you might find a shop popping up next to you!