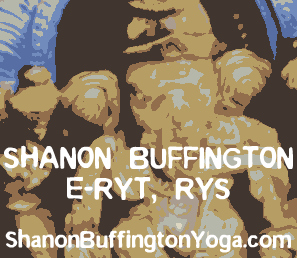 Event Dates:
Saturday, July 10, 2021 - 17:45

to

Sunday, January 30, 2022 - 17:45
Event Presenter(s):
Shanon Buffington, MS, ERYT, RYS
Location:
Shanon Buffington, MS, ERYT, RYS
United States
Are you ready to transform? Your practice? Your life? 
Participating in an in-depth studies course provides an opportunity to learn and experience the life-changing practice of yoga. Drawing from traditional yoga theory as well as modern knowledge of the body and mind, these courses are designed to develop exceptional practitioners that are able to guide others along the path of yoga. 
The scope, depth, and personal approach of these courses has been designed to develop practitioners who embody and are able to share with others an authentic practice of yoga.  The intention of these courses is to bring education and community to students and teachers of yoga that want to explore the richness that yoga has to offer.
As a Yoga Alliance Registered School, course hours are recognized as continuing education through the Yoga Alliance, or can be used towards a Yoga Alliance Teacher Registration at the 200 hour level (RYT200).
Curriculum includes:
ANATOMY  & PHYSIOLOGY
Gain an understanding of the respiratory, nervous, muscular, and skeletal systems and how to apply this knowledge to yoga practice. Learn efficient and safe applications of anatomy and movement, including modifications, contraindications, and hands-on adjustments.
VINYASA KRAMA
Discover the energetics of sequencing, how to structure an effective practice, and wise preparation (vinyasa krama) for the most beneficial practices. These sessions cover the energies of the chakras, prana vayus, the primary doshas, and gunas.
PRANAYAMA
Learn basic pranayama techniques, their proper use and benefits, anatomy & physiology of the breath, and how to practice pranayama effectively. This session also covers the energies and practices of mudras and bandhas.
MANTRA, THE SCIENCE OF SOUND
An introduction to the Sanskrit language, the use and benefits of mantra practice, and the science of sound.
MEDITATION, THEORY & PRACTICE
Learn the importance of meditation, its role as a part of yoga and how to create and lead a meditation practice.
YOGA PHILOSOPHY
Study the psychology, philosophy and history of yoga. Explore the literary and cultural heritage of yoga, and how to practically and effectively integrate these teachings into your practices and life.
SPECIAL POPULATIONS
Learn how to effectively adapt yoga to special populations, including pregnant women, seniors and children. Learn how to modify yoga for those with limitations, injuries, and disabilities.
Schedule:
Weekends, Sat/Sun 11am-6pm.
July 10-11
July 24-25
Aug 14-15
Aug 28-29
Sept 18-19
Oct 9-10
Oct 23-24
Nov 6-7
Dec 4-5
Dec 18-19
Jan 8-9, 2022
Jan 29-10, 2022
Live and virtual options available.
About this Presenter:
Shanon's teachings are influenced by the Tantric tradition of Sri Vidya and the lineage of Sri Swami Rama of the Himalayas. She is an initiate and teacher in the tradition of the Himalayan masters and ParaYoga. She aims to bring an authentic experience of the yoga tradition to each class as well as to everyday life. She is one of the few teachers transmitting an authentic, living tradition that has been practiced and taught from teacher to student for thousands of years.
Shanon's training includes certifications from the Yoga Institute and ParaYoga. Her training is in classical Tantra, Hatha, and Raja Yoga. She is a member of the Yoga Alliance with over 1000 hours of yoga training, and is the director of a registered yoga school that trains teachers at the 200 and 500 hour levels. She is also a certified Yoga and Ayurveda Wellness Consultant through the American Institute of Vedic Studies and  Dr. David Frawley (Pandit Vamadeva Shastri) and a trained facilitator of PSYCH-K®. She has studied with her teacher, Yogarupa Rod Stryker, considered to be one of the pre-eminent yoga and meditation teachers in the United States, since 2005. 
Cancellation Policy:
$275 registration deposit is non-refundable.
Full course fee is refundable (minus deposit) up to 30 days before course start date.
Individual weekend sessions are refundable (minus deposit) up to 14 days before session start date.