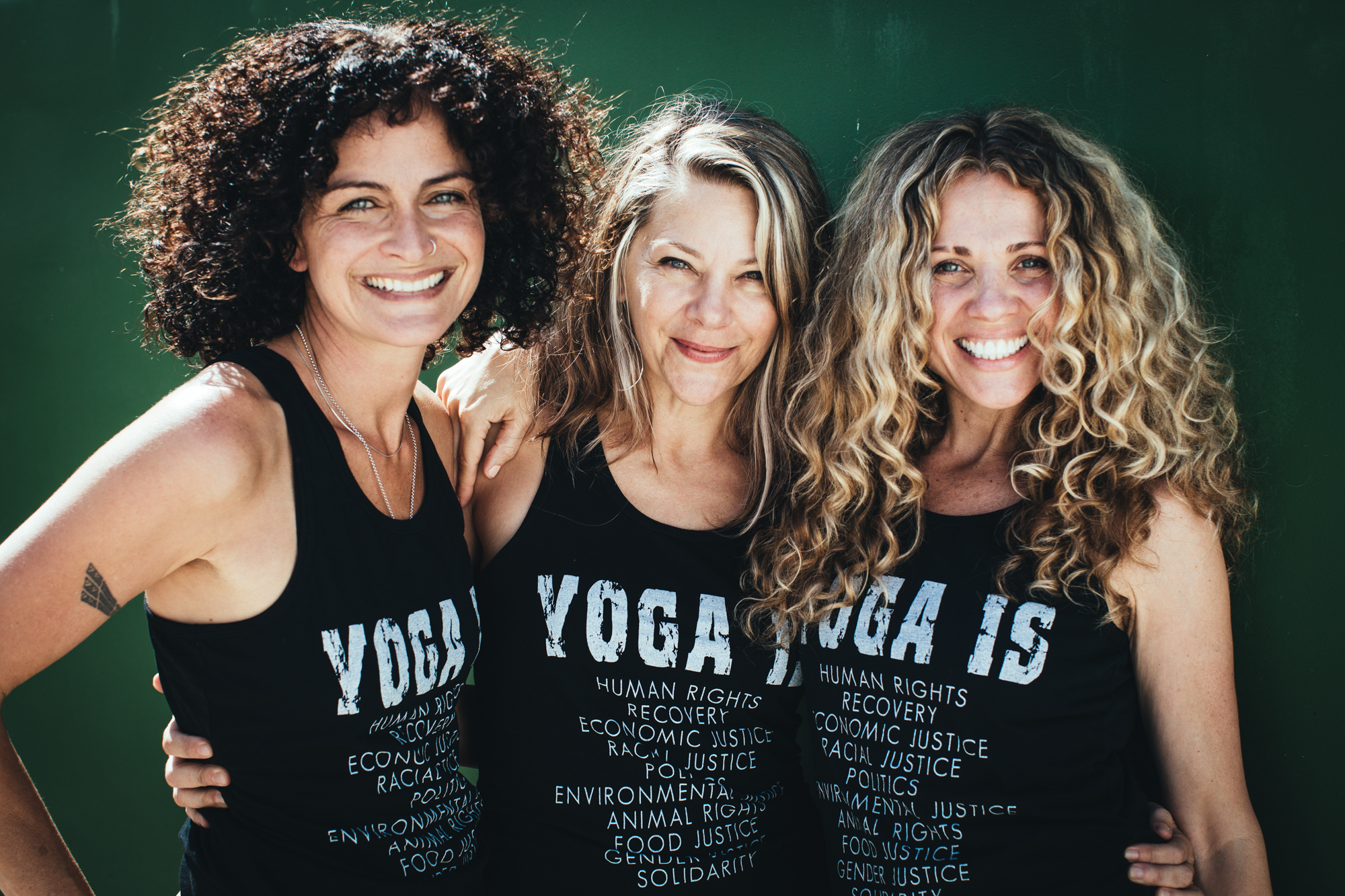 Event Dates:
Monday, December 3, 2018 - 06:00

to

Saturday, December 8, 2018 - 06:00
Event Presenter(s):
with Seane Corn, Hala Khouri, and Suzanne Sterling
Location:
18484 Preston Road, Suite 201
United States
Price:
$1,300 Supporter; $1,000 Sustainer; $700 Community
Founded in 2007 by Seane Corn, Hala Khouri, and Suzanne Sterling, Off the Mat Into the World® (OTM) is is non-profit organization dedicated to training leaders worldwide in social change - We are the bridge between yoga, self inquiry, and sustainable community action. We are movement builders and fully embodied activists. Yoga, Purpose and Action 2.0 is a 5 day leadership intensive for anyone wanting to discover, refine or expand their purpose in the world and live a life dedicated to justice and inside out transformation. We believe that collective liberation is the goal, and this requires a commitment to a personal journey of introspection, healing and accountability that allow us to participate in an effective and healthy way. We also believe that embodied practices like yoga, meditation and ritual are powerful tools for both self-inquiry and sustainability.
The arch of this training begins with a personal inquiry about the ways you have been shaped by your life experiences and how that influences how you see the world and participate.
Next, we explore how to transform our wounds into our gifts, with a very practical and creative approach to taking action in conscious and collaborative ways. All of this is done within a context that acknowledges the systemic issues that shape our worldview and our actions.
OTM founders each get to share the essence of their work this week. This is a rare chance to be with three world renowned facilitators who model collaboration as one of the crucial tools for ongoing action.
This training includes:
-Embodied Mysticism: A journey through the chakras with Seane Corn
-Trauma: Personal, Interpersonal and Systemic Dynamics with Hala Khouri
-Voice of Change: Liberation, expression and truth telling with Suzanne Sterling
-Embodied Social Justice: Power, privilege and positionality. How we are shaped by the larger systems we live in.
-Purpose and Action: What does conscious engagement look like and what do you need to move forward towards living a life of meaning and sustainability dedicated to justice for all beings.
"This training is for people looking to vision, articulate and live fully their purpose as well as those deeply steeped in their work but who need community and support We are committed to creating a space where people of all genders, gender identities, races, abilities, body size and sexual orientation feel included." -Seane, Hala & Suzanne.
If you have already done our 5 day intensive, we suggest considering doing this one. Our trainings have evolved tremendously and people who have repeated the course have expressed that it was highly beneficial and strengthened their work in the world.
Intensive Fee Options*:
$1300 - Supporter (supports others as well as yourself)
$1000 - Sustainer (pays for you)
$700 - Community (discounted fee)
*does not include travel, food, or lodging
An important part of justice is access. At OTM, we stand for leveraging our privilege to support others. If you can afford to, please consider paying it forward by paying any amount above $1000. This allows us to continue scaling the prices of our intensives so that everyone is included.
OTM can offer a limited number of scholarships, through their website. Please apply only if you have sincere financial need. We are committed to cultivating a diversity of voices and life experiences in our training and making them accessible to people of all income levels. To apply, click here,
Please note: this training will sell out. Register asap to reserve your space. No refunds.
A wait list will be offered once we are full.
*Voice of change workshop with Suzanne Sterling
Schedule:
Sample Schedule (subject to change)
Monday 8:30-5:30
Tuesday 8:30-5:30
Wednesday 8:30-5:30 & 7-9pm*
Thursday 8:30-5:30
Friday 8:30-5:30
What to Bring:
Yoga mat, notebook, pen and water bottle.