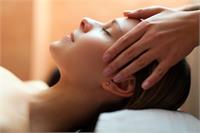 Event Dates:
Saturday, March 10, 2018 -

14:00

to

16:00
Location:
4525 Lemmon Ave, 3rd Floor
United States
Price:
$30 By March 1 / $40 After
In this experiential workshop, you will learn a Marma Facial Massage focusing on the Sinuses, variations of the sense-cleansing treatment known as Nasya Karma, and be introduced to a variety of oils, herbs and tools that support sinus health and brain function.
"…a tree grows well when its roots are free from defects, so the body grows properly only if the head is free from diseases…" Charaka Samhita
Ayurveda acknowledges the Ritu Sandhi, or Change of Seasons, as a critical time for practicing very specific self-care procedures to prepare us for the challenges of the approaching season. The self-care ritual for spring is known as Nasya Karma. It's a very practical way of cleansing, purifying and lubricating the sinuses. It clears the winter accumulation of mucus, reestablishes the integrity of the cellular barrier which guards against invading pathogens and conditions the sinuses to function efficiently.
Beyond sinus health, Nasya Karma is known to address all imbalances above the shoulders, from neck pain to insomnia, tinnitus, migraines, memory loss, emotional stress and even the ability to express oneself. By nourishing the Shringthaka Marma, it benefits sight, hearing, taste and provides a "gentle jolt" to the brain.
"As practical as the goal of this sense cleansing treatment seems…to clear and purify the sinuses…I'm going to make a bold statement here, but I have witnessed nothing short of metamorphosis in some of my clients as a result of Nasya Karma over the years. The face changes. There is a lightness, a brightness and clarity…a palpable sense of mental radiance." Kathleen Lohr
About this Presenter:
Kathleen Lohr, LMT, has been practicing Ayurvedic Bodywork Therapies at DYC Wellness since 2010.
While she became enchanted with Ayurveda in the early 1980's, it wasn't until 2007, that it was her good fortune to receive a scholarship for the Six-Month Residential Ayurveda Technician Internship at the Arte de Vivre Ashram in Quebec, affiliate of the Sri Sri College of Ayurvedic Science & Research Hospital in Bangalore.
This intensive program qualified her skills in Ayurvedic Bodywork Therapy, Pancha Karma techniques and Marma Chikitsa. She returns to Canada for weeks of work/study each year and studies with the western masters of Ayurveda every chance she gets.
For appointments please call 214-507-4133. For more information about the services Kathleen offers please visit: www.sweetojas.com.