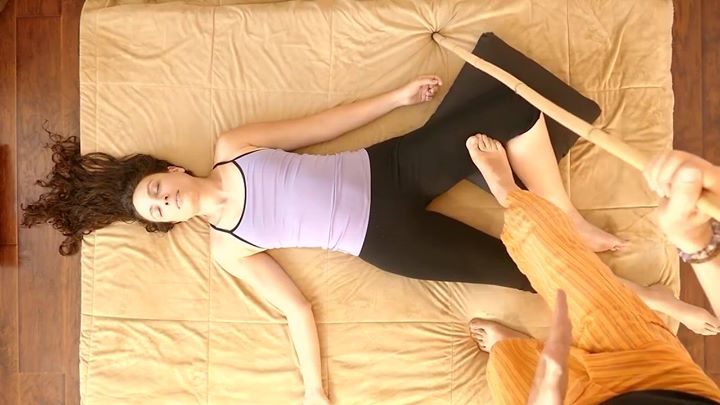 Event Dates:
Wednesday, July 10, 2019 - 09:00

to

Thursday, July 11, 2019 - 18:00
Event Presenter(s):
Randal Cummins, AOBTA CI, LMT, certified AOBTA Shiatsu Instructor
Price:
Early bird $250 thru May 30, 2019. Full price $300
Traditional floor work utilizing many applications of sustained foot pressure utilizing the balancing advantage of a wooden staff.
Barefoot Shiatsu is mat work, integrating the use of feet, knees and elbows for the purpose of applying sustained pressure. We follow general pathways of the classical meridians, focusing on typical stagnant and muscularly tight areas. Techniques will be demonstrated in supine, prone and side-lying positions. Emphasis is given towards fluidity of transition, and the seamless rhythmic application of techniques. Participants will enjoy the freedom of using the whole body, will learn strategies to take the burden off their thumbs and wrists, and will learn deep and relaxing techniques to benefit a wide range of clients.
Schedule:
July 10 ~ 11, 2019 from 9am to 6pm.    16 CEU's for Yoga Teathers, Massage therapists and Bodyworkers
About this Presenter:
Randall Cummins, AOBTA CI, LMT is a certified AOBTA shiatsu instructor and massage therapist. Randy was on the faculty of The Chicago School of Massage Therapy for 20 years and, for the past 15 years, the Lauterstein-Conway Massage School in Austin, TX.
Randy has provided trainings since 1985 throughout the United States, in Jamaica and in Puerto Rico. He is a nationally respected expert practitioner and instructor of many forms of therapy, including deep tissue, shiatsu, and Thai massage. His expertise, humor and perspective have helped thousands of students access the deepest principles of massage therapy.
What to Bring:
Any pillows or blankets that help you to be comfortable.