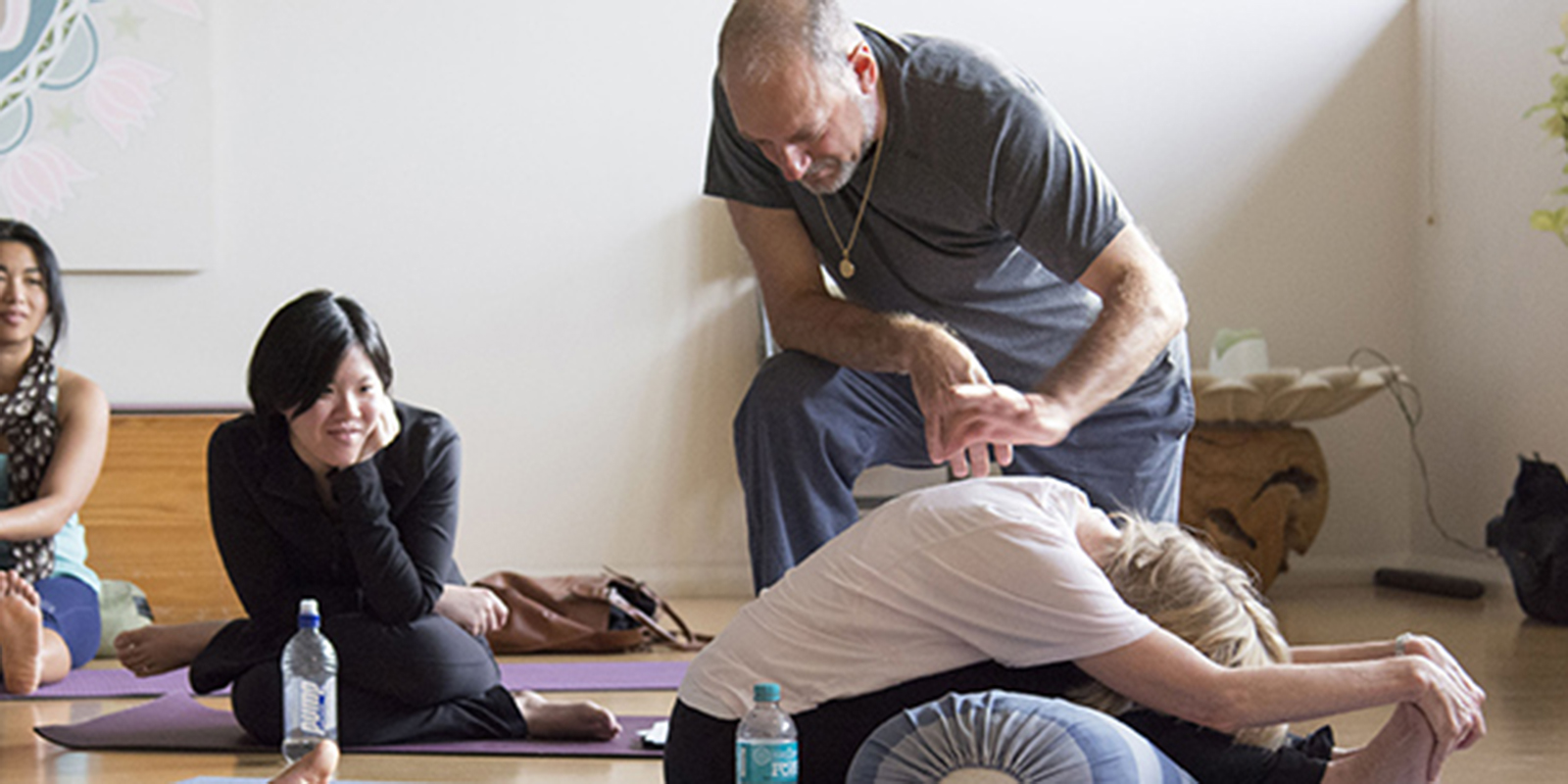 Event Dates:
Friday, May 18, 2018 - 10:30

to

Monday, May 21, 2018 - 21:00
Price:
WEEKEND ONLY: $325, FULL PROGRAM: $445
Friday, May 18 - Monday May 21
with Leslie Kaminoff at Westgate
Please join us as we welcome back Leslie Kaminoff  for a special 20 hour program.  Although available as individual segments (Friday night, Saturday, Sunday and / or Monday), to receive full value out of your experience,  we strongly recommend that you attend the Friday evening introductory session regardless of which other segments you attend.
Schedule:
Introduction to Healing Through Breath-Centered Yoga
Friday, May 18
6:00 - 9:00pm
Krishnamacharya's and Desikachar's therapeutic approach puts the central focus on two crucial elements: the breath, and the specific needs of the individual. In addition, promoting healing through yoga is based on the perspective that there's always more going right for a person than has gone wrong. Working from these foundations, Leslie will share what he has learned during the past four decades applying his teacher's principles to working with groups and individuals.
Fundamentals of Vinyasa – 
Breath, Spine and Personal Practice
Saturday,  May 19
10:30am - 1:30pm and 3:00 - 6:00pm
Built upon an exploration of the interrelationship between breath and spinal anatomy, the morning practice session will examine the fundamentals of a breath-centered yoga that honors the uniqueness of each individual.  Equal time will be spent in flowing practice, mindful asana and interactive inquiry that will address some of these questions:
What is the relationship between spinal flexion/extension and inhaling/exhaling?
What patterns of breath best coordinate with the need for support or release in asana practice?
Is there a relationship between breath action and alignment in asana?
Is the *best* counterpose always the one we can most easily flow into?
Exploring the Breathing Body in Yoga – 
The Anatomy of Form and Function
Building on the insights from our morning practice, we will dive deeply into the essential anatomy, kinesiology and physiology of breathing as it relates to yoga practice. Questions covered will include:
How does breathing occur on every level – from cells to systems and beyond?
What facts of breath physiology are most relevant to yoga and meditation practice?
What is the structure and function of the diaphragm and other key muscles of breathing?
Is there such a thing as "maximal oxygenation?'
What is the definition of anatomy, from both Western and yogic perspectives on the body?
Are there physical correlates of the koshas, chakras, nadis and kundalini?
Re-imagining Alignment: A Full-Day Immersion, 
Built Around Leslie's Hands-free Vinyasa Practice, The Warrior Series
Sunday, May 20
10:30am - 1:30pm and 3:00 - 6:00pm
Leslie designed the Warrior Series as a challenging, mindful vinyasa sequence that strongly works the feet and legs while moving the spine in all possible directions, all without putting any weight-bearing stress on the upper extremities. Based on the skills required for this series, Leslie will lead a highly interactive workshop, inspired by participants' insights into their own practice, teaching methods and use of language. Leslie will promote and support an experimental, experiential atmosphere of inquiry regarding the teaching of alignment, safety and effective cueing of practice.
Starting with clear, simple principles that govern musculoskeletal function, some of the following topics will be explored:
Historical and anatomical perspectives on the value and definition of alignment in asana.
Functional principles of healthy alignment and movement.
How to use teaching language to support breath-centered, anatomically-based cueing.
What is the relationship of bandha to support and movement?
Are instructions like "tuck your tail," "lengthen your spine," "square your hips" possibly doing more harm than good?
Special Teacher Intensive
Monday, May 21
10:30am - 1:30pm and 3:00 - 5:00pm
BOS-COG-ROM: 
How to Build an Asana from the Ground Up
Morning session -  Base of Support, Center of Gravity, Range of Motion: this is Leslie's signature hierarchy of key considerations when consciously constructing a yoga pose. If the base is not stable, there is no foundation upon which to build. If there is no organized center of gravity, there is no efficiency of effort. If the prior two factors are not integrated, the body's natural range of motion will be compromised. In this lesson, we will learn how to view a variety of poses from this perspective in order to prioritize possible adaptations  and adjustments for individual needs.
Therapeutic Adaptation and Modification
Afternoon session - We will draw from the histories, injuries and concerns of workshop participants to identify and address the most common sources of stress in yoga practice. Working with the group, and individually with selected participants, we will explore practical modifications to asana, the creative use of breath, language and imagery, and simple hands-on adjustments. This is Leslie's opportunity to re-create the context in which he learned the one-on-one application of yoga from his teacher, T.K.V. Desikachar.
About this Presenter:
Leslie Kaminoff is a yoga educator inspired by the tradition of T.K.V. Desikachar. He is recognized internationally as a specialist in the fields of yoga, breath anatomy and bodywork. For over three decades he has led workshops and developed specialized education for many leading yoga associations, schools and training programs in America and throughout the world. His approach to teaching combines intellectual rigor, spontaneity and humor, and is always evolving.
Leslie is the founder of The Breathing Project, a New York City based educational non-profit dedicated to teaching individualized, breath-centered yoga. Leslie created and teaches The Breathing Project's unique year-long course in yoga anatomy, also available online at yogaanatomy.net. He is the co-author, with Amy Matthews, of the best-selling book "Yoga Anatomy."
You can follow him on Twitter (@lkaminoff) and on Facebook (LeslieKaminoffYogaAnatomy), on YouTube (YogaAnatomy) and learn more at YogaAnatomy.org.
Cancellation Policy:
If you find yourself unable to attend an event, please alert us as soon as possible.
Cancellations 21 or more days prior to start of an event will receive a full refund.
Cancellations 8-20 days prior to start of an event can receive a partial refund or credit (20% penalty).
No refunds or transfers are available for no shows or cancellations within 7 days of the start of the event.
Please contact the studio manager where the event is being hosted or the Events Department at 512-707-YOGA events@yogayoga.com to initiate a cancellation.
Yoga Yoga reserves the right to cancel any program at any time. If this is necessary, we will issue a full refund.
Contact Information:
If you are a 200 hour Yoga Alliance Registered Yoga Teacher and are interested in becoming a 500 hour Registered Yoga Teacher please contact Yoga Yoga Teacher Training, training@yogayoga.com or (512) 326-2273, to learn how this course can apply. To receive your Advanced Training credit, you will register through Yoga Yoga Teacher Training, not through this web page.
Yoga Alliance Registered Yoga Teachers (RYT), apply these hours towards your CEU requirements.