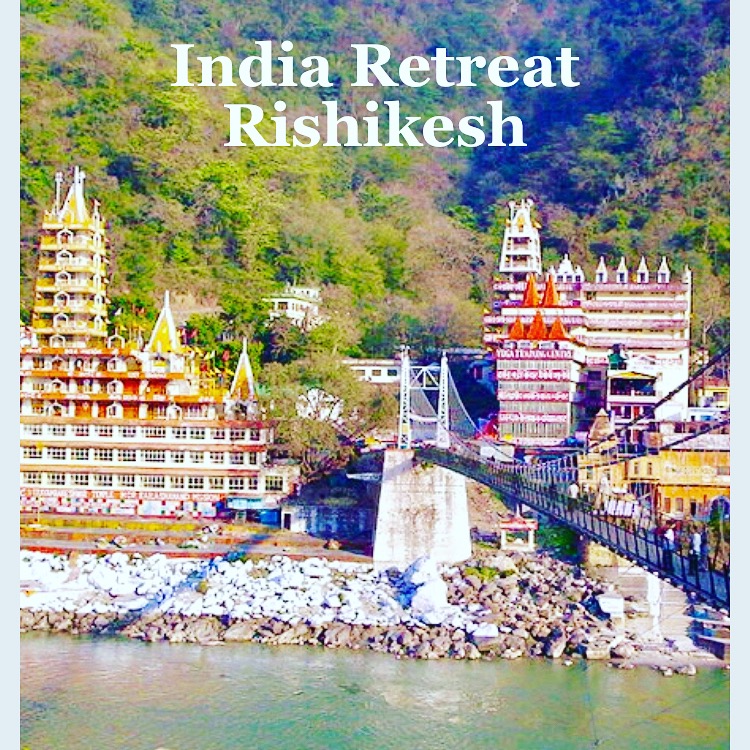 Event Dates:
Friday, July 12, 2019 - 16:00

to

Sunday, July 28, 2019 - 08:00
Prakash Deep Institute of Ayurvedic & Yogic Sciences.
Location:
Prakash Deep Institute of Ayurvedic and Yogic Sciences
NH-58, Near Raiwala Railway Station
Raiwala
Uttarakhand
249205
India
12-Day India Yoga Retreat and Sacred Sites Tour
A GREAT ADVENTURE
FOCUSED ON YOUR HEALTH
AND WELL-BEING.
The city of Rishikesh, situated in northern India by the Ganges River at the Himalayan foothills, is renowned as a center for studying yoga and meditation. Temples and Ashrams (places for spiritual studies) line the shores of the Ganges River.  The city is known as a pilgrimage town, a national heritage city, and regarded as one of the holiest places to Hindus. Since ancient times, Hindu sages and saints have visited Rishikesh as part of their search for higher knowledge and enlightenment.
NOW YOU CAN BE PART OF THIS PILGRIMAGE AND RECHARGE YOURSELF
WITH THE SACRED ENERGY OF THIS HOLY PLACE THAT HAS TOUCHED MANY SOULS.  
We will fly to New Delhi - Dehradun and take a 45-minute car trip to Raiwala, Uttaranchal, where we will settle at an Ayurveda Clinic and Yoga Training Center near the sacred city of Rishikesh,
the Yoga Capital of the World!
The Ayurvedic Clinic is situated on the holy land of Vedas and Saints and the spiritual divine power of Uttarakhand, between Haridwar and Rishikesh. This place, surrounded by forest and mountains, is charged with the healing and spiritual energy of the Ganges River. 
This is a beautiful place for those who want to connect with their inner-being and empower themselves. At this place, guests have found freedom to express their emotions and reconcile their physical pain. 
The Ayurvedic Clinic is run by a group of caring and nurturing Ayurvedic Doctors, Technicians, Yoga Teachers and Healers who are able to create an environment where guests can find peace of mind and repair their bodies through different treatments, yoga classes, and home made Ayurvedic vegetarian meals. ​
During our site visits, we will be able to explore the city of Rishikesh, see the Ganges River, an Ashram, a Temple, and be part of the famous Aarti ceremony- a beautiful sacred ritual worshiping the Ganga that takes place every afternoon at dusk.  
At the Center, guests will be able to chose from a variety of Ayurvedic treatments, rejuvenation therapies (Panchakarma), Yoga classes, and retreats that form a complete system of medicine.
Guests will understand the connection between Yoga and Ayurveda as well as the importance of a mind-body health balance. ​
RETREAT INCLUDES
​* Your choice of Ayurvedic treatment.
* Daily yoga and meditation class with Claudia.
* Two site seeing tours: sacred city of Rishikesh, Dehradun market.
* Accommodations for 12-days including clean bedrooms and bathrooms with hot water.
* Use of retreat center and surrounding green areas. 
* Three delicious, healthy, vegetarian meals per day prepared by in-house Ayurvedic chef. 
* Unlimited herbal tea and filtered water.
* Fire ceremony to conclude the retreat.
NOT INCLUDED
​* Round-trip airfare to and from India, including airfare to New Delhi and Dehradun.
* Airport pick-up and drop-off.
* Personal incidentals and expenses like telephone calls, tips, laundry, extra meals, taxi.​
DEPARTURE DAY: Friday, July 12, 2019
DEPOSIT DUE DATE: Friday, March 22, 2019
Schedule:
TREATMENT OPTIONS
​* Ayur Hatha Yoga Retreat
* Weight Loss Retreat
* Panchakarma Retreat
* Ayuryoga Therapy Retreat
* Stress Management Retreat
SCHEDULE
7:30-8:30 Yoga class
9:00- 10:00 Vegetarian Breakfast 
10:00-12:00 Ayurvedic treatments/Therapy/Class
12:00-1:00 Practice learned techniques/study time
1:30-2:30 Vegetarian lunch
2:30-4:45 Yoga/Ayurveda classes
5:00-6:00 Meditation
7:00-8:00 Vegetarian Dinner
8:00-9:00 Personal time/Study
3:00 Ayurvedic treatments 
How to register:
To register please go to inner-wellbeing.com/retreats
About this Presenter:
Claudia Carballal, Founder of InnerWellbeing, is Certified Registered Yoga Teacher (RYT500, E-RYT200), Yoga Alliance Continuing Education Provider (YACEP®) and Certified Ayurveda Counselor and Life Coach in the United States and India.
She has formal training and experience in substance abuse prevention education, life-skills, and psychotherapy, expected to graduate with a Masters in Clinical Mental Health Counseling in 2019 from Southern Methodist University (SMU) in the USA. 
Claudia is a speaker and writer on issues of health and wellness, yoga, Ayurveda, and psychology. 
What to Bring:
Bring comfortable clothes and shoes for hot weather, cash in the country's currency, something to write, and a yoga mat, if you have one. If you don't have a yoga mat or don't want to carry one, we will provide one for you at the Center. 
Cancellation Policy:
You can cancel at any time, but the deposit is not refundable.
NON-REFUNDABLE Deposit of $500.00 is required to hold your spot.
Deposit due four months prior to departure date.
Flight booking and retreat full payment recommended at least 60 days prior to departure date. The sooner the better. 
DEPARTURE DAY: Friday, July 12, 2019
DEPOSIT DUE DATE: Friday, March 22, 2019
Additional Comments:
https://www.inner-wellbeing.com/events-2?mc_cid=5229a0cf61&mc_eid=11fb374fc7For more information about InnerWelbeing retreats visit