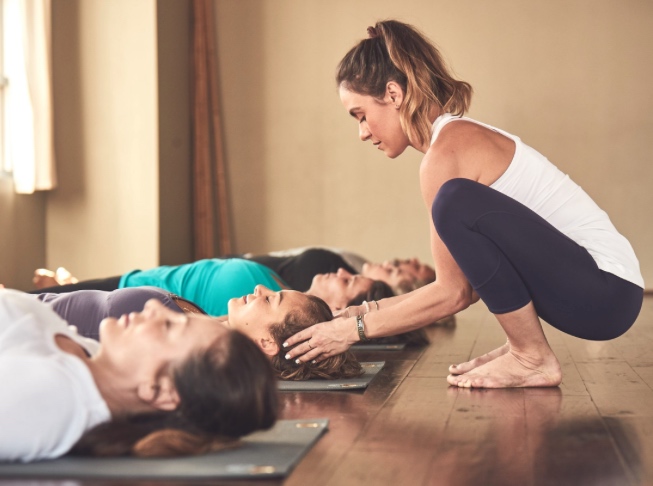 Event Dates:
Friday, September 6, 2019 - 06:00

to

Sunday, December 15, 2019 - 05:30
Event Presenter(s):
Chelsey Charbeneau, Rachel Fox, Jodie Roberts, Dr. Braitsch, Douchka Lecot, and more
Location:
Westside Wellness & Breathe Mind & Body
United States
Price:
$2750 Early Bird 8.01.19 / $3200 - After Early Bird Deadline There is one half scholarship that is awarded.
Meditation Certification Course
Go on a journey of a lifetime and dive deeper with meditation. Join a community that is connecting with their higher self and discovering the wealth of meditative experience. This 200-hour comprehensive course will provide you with the most well rounded foundation to begin your journey and successfully teach. Our program offers continuing education through Yoga Alliance and was created to set a new standard in the meditation industry. It was designed to collaborate with industry leaders and experts to provide you with the most authentic experience. This training offers your access to twenty-one different meditation traditions, breathing practices, energy healing, and more. We blend the ancient Eastern wisdom with the medical Western approach to enhance your wealth of knowledge. This program is designed for anyone and everyone who is curious about the depths of meditation and the self. 
Your training includes the following: plus several additional surprises!
Welcome Bag with various tools to start your journey
450 page Training Manual
Multiple Excursions
Four Month Course
Unlimited Classes at Breathe Mind & Body
8 Senior Teachers
One in a Lifetime Opportunity
For this 200 hour training, learn:
21 Meditation Styles
History & Purpose
Breathing Techniques
Meridians & Chakras
Scientific Research
How to Teach
Personal Practice
Finding Your Voice
Business of Meditation
And Much More!
Schedule:
Complete your training in just four months. All missed days can be made up.  Our schedule is as follows:
September 06, 07, 08
September 13, 14, 15
October 04, 05, 06
October  18, 19, 20
November 08, 09, 10
November 22, 23, 24
December 13, 14, 15
All Friday meeting times: 6-9pm
All Saturday & Sunday meeting times: 9am-5:30pm
About this Presenter:
Chelsey Charbeneau C-IAYT, E-RYT 500, YACEP - is joined by 8 other master teachers and educators for this exception and in depth program.
Chelsey Charbeneau discovered her life purpose—helping people become happier and healthier—through her own wellness journey which began in Los Angeles over 16 years ago.  She was your typical A type personality climbing the corporate ladder and working for a financial investment firm. As time went on, the effects of stress and neglect left her with a laundry list of diseases and ailments. She began to practice yoga and meditation which led her to experience the extensive therapeutic benefits on her mind, body and spirit.
Chelsey is a certified yoga therapist with The International Association of Yoga Therapists and an experienced registered yoga teacher and continuing education provider with the national Yoga Alliance. She is also certified in Thai yoga massage therapy, Mindful-Self Compassion and trained in prenatal yoga. For over six years she shared her expertise at a physical rehabilitation center in Beverly Hills and went on to collaborate with doctors at Cedars-Sinai Medical Center, Methodist Hospital, Medical City, and The Brain Performance Institute. She has helped to treat and manage many medical conditions and ailments such as chronic back and neck pain, headaches, heart conditions, anxiety, stress, rheumatoid issues, auto immune diseases, PTSD and more.
After many years in the medical industry she realized the need for meditation on a mainstream level. In 2014 she opened Just B, a meditation studio in Santa Monica, California and in 2016, she moved to Dallas and helped open a mindfulness meditation studio where she served as their Chief Mindfulness Officer. Chelsey has created and implemented meditation curriculum for Dallas Independent School District, Adaptive Training Foundation, Unique Footprints among many others. She has also launched the first 200-hour meditation teacher training in this region and continues her meditation studies with renowned experts such as Pema Chodron, Dr. Kristin Neff and attending Vipassana retreats as taught by S.N. Goenka. Her hard work and dedicated outreach in the community has been recognized and rewarded by lululemon where she now serves as an Ambassador. 
Chelsey's expertise has garnered her a web series with Marta Kauffman and appearances on FOX, NBC, WFAA, and Eye Opener Television. Her work has been circulated globally and she continues to lead teacher trainings, workshops, classes and seminars nationwide. Chelsey's teachings have impacted the lives of children, seniors, homeless, celebrities, trauma victims, veterans and everyone in-between. With a deep commitment to health and well-being, her goal is always to provide an experience that is nurturing, personal, and safe.
Required Props:
Everything will be provided for you.