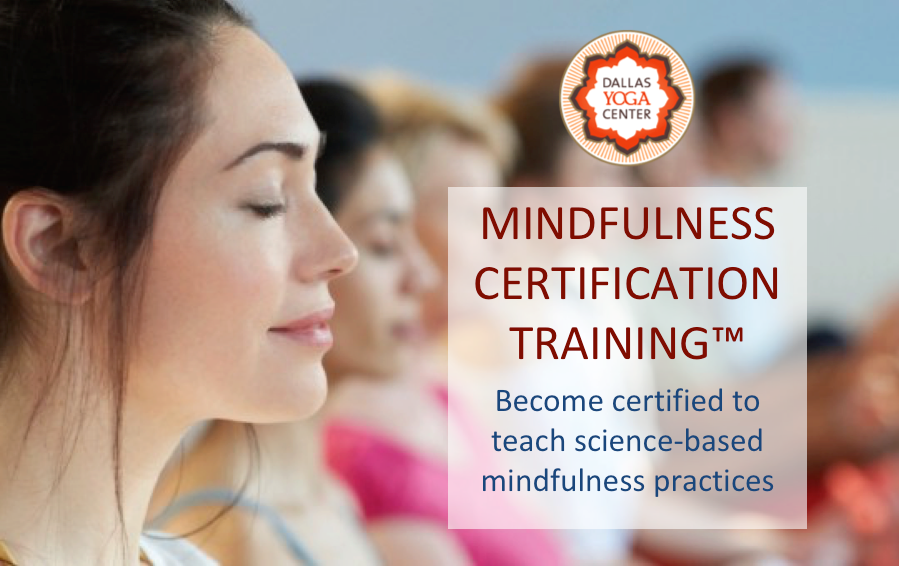 Event Dates:
Saturday, March 17, 2018 - 10:00

to

Sunday, April 29, 2018 - 05:00
Location:
4525 Lemmon Ave, 3rd Floor
United States
Price:
$795 by March 7 / $875 After
Become certified to teach science-based mindfulness practices
For yoga teachers, school teachers, healthcare professionals, business professionals, therapists & individuals looking to teach & share mindfulness with others.
Dallas Yoga Center has trained thousands of people in science-based and experiential mindfulness practices. Through its Mindfulness Certification Training (MCT), DYC brings together the best local instructors and national luminaries in the field to create an in-depth, interactive and comprehensive program.
DYC's evidence-based mindfulness expert trainer, Kay Colbert, LCSW, will lead the training. Nationally renowned contributors include Dr. Christopher Willard, author and Harvard lecturer on mindfulness and psychotherapy, who will teach the psychology of mindfulness, and Meena Srinivasan, international thought leader and author of 'Teach, Breathe, Learn', who will train on mindful teaching methodologies.
You will learn:
• How to teach structured mindfulness classes
• The history and science of mindfulness
• Mindfulness tools to reduce stress and improve calm and focus
• Insights on incorporating mindfulness into your area of focus
• Guidance on integrating technology to support your teaching
 
You will receive:
• An MCT (Mindfulness Certification Training) Certificate
• 40 hours of expert-led mindfulness teacher training
• 15 hours of guided personal practice
• 5 hours of practice teaching to DYC students and others
• A framework for teaching structured mindfulness classes
• A mindfulness planner as a tool for yourself or students
• Access to a library of teaching scripts
*30 hours of additional personal mindfulness practice is required before issuance of certificate. Mindfulness hours can be from previous personal practice or can be completed before, during or after MCT program.
Payment plans are available, please see the front desk at DYC for more information via phone 214.443.9642 or email: info@dallasyogacenter.com
Mindfulness Certification Training + 40 CEs (MCT+CE) for Psychologists, LCSWs, and LPCs   (limited space available!)
*40 CEs are available for Psychologists, LCSWs, and LPCs at an additional price.
*http://dallasyogacenter.com/MCTce
Schedule:
TRAINING DATES (60 hrs over 6 weeks)
March 17 & 18, 2018
First weekend immersion
Sat & Sun, from 10am-5pm
March 22, March 29, April 5, April 12, April 19, April 26
Six consecutive Thursday evenings from  6:30-8:30pm
April 28 & 29, 2018
Second weekend immersion
Sat & Sun, from 10am-5pm 
About this Presenter:
Kay Colbert, LCSW is a licensed clinical social worker in Dallas with a long-term personal meditation and yoga practice. Mindfulness has been transformational for her both professionally and personally. Kay has 300 hours of training in teaching Mindfulness-Based Programs through the University of California San Diego Medical School Center for Mindfulness. Kay is a Trained Teacher of Mindful Self-Compassion.