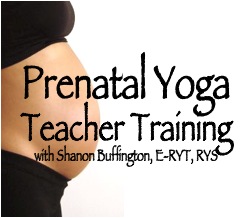 Event Dates:
Saturday, August 8, 2020 - 08:00

to

Thursday, December 31, 2020 - 04:00
Event Presenter(s):
Shanon Buffington, MS, ERYT, RYS
Location:
Shanon Buffington, MS, ERYT, RYS
United States
Prenatal Yoga is a great way for moms-to-be to stay physically healthy and emotionally grounded during pregnancy. It addresses challenges inherent to pregnancy and childbirth while nourishing the spirit to set the stage for confident parenting. Teaching yoga for pregnant women is a wonderfully fulfilling way to help women experience a more comfortable pregnancy and prepare for the demands of birth and beyond.
This comprehensive teacher training will provide you with a rich framework and effective tools to:
EXPAND your teaching and learn the benefits of yoga for pregnancy, birth, and beyond.
GAIN an understanding of the anatomy and physiology of pregnancy.
LEARN sequencing and the essential components of a prenatal yoga class.
UNDERSTAND the energetics of pregnancy and how to use energetic yoga practices during and after pregnancy.
ADDRESS the common discomforts of pregnancy with specific yoga postures, breathing, and sequences.
ADAPT and modify group classes to accommodate pregnant women.
HELP women prepare for birth, physically, emotionally, and energetically.
FACILITATE a woman's capacity to access her own inner wisdom and strength and empower her birthing experience.
A certificate of completion will be awarded upon completion of this 20-hour training and successful completion of the take home exam. This training qualifies as continuing education if you are registered through Yoga Alliance.
Required reading: The Female Pelvis by Blandine Calais-Germain
Schedule:
Flexible schedule beginning August 8 with a live Q&A on September 12, 1pm.
About this Presenter:
Shanon's teachings are influenced by the Tantric tradition of Sri Vidya and the lineage of Sri Swami Rama of the Himalayas. She is an initiate and teacher in the tradition of the Himalayan masters and ParaYoga. She aims to bring an authentic experience of the yoga tradition to each class as well as to everyday life. She is one of the few teachers transmitting an authentic, living tradition that has been practiced and taught from teacher to student for thousands of years.
Shanon's training includes certifications from the Yoga Institute and ParaYoga. Her training is in classical Tantra, Hatha, and Raja Yoga. She is a member of the Yoga Alliance with over 1000 hours of yoga training, and is the director of a registered yoga school that trains teachers at the 200 and 500 hour levels. She is also a certified Yoga and Ayurveda Wellness Consultant through the American Institute of Vedic Studies and  Dr. David Frawley (Pandit Vamadeva Shastri) and a trained facilitator of PSYCH-K®. She has studied with her teacher, Yogarupa Rod Stryker, considered to be one of the pre-eminent yoga and meditation teachers in the United States, since 2005. 
Cancellation Policy:
Cancellations before August 1 will be fully refunded. All cancellations after August 1 are not refundable.