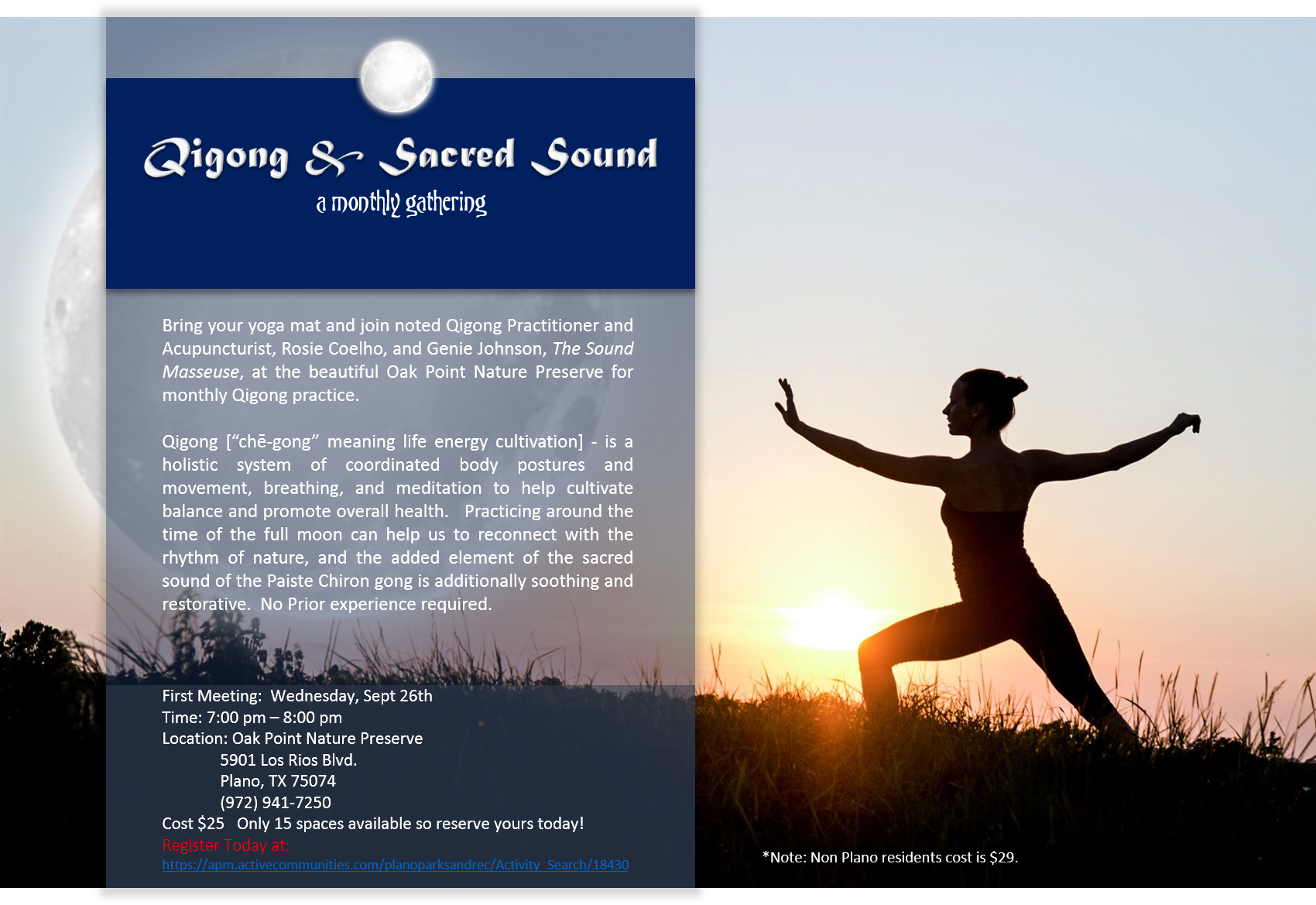 Event Dates:
Wednesday, September 26, 2018 -

19:00

to

20:00
Event Presenter(s):
Genie Johnson & ROSIE COELHO
CITY OF PLANO PRESENTS QIGONG & SACRED SOUND W/CO-FACILITATORS ROSIE COELHO & GENIE JOHNSON/THE SOUND MASSEUSE
Location:
OAK POINT NATURE PRESERVE
United States
Bring your yoga mat and join noted Qigong Practitioner and Acupuncturist, Rosie Coelho, and Genie Johnson, The Sound Masseuse, at the beautiful Oak Point Nature Preserve for monthly Qigong practice.
Qigong ["chē-gong" meaning life energy cultivation] - is a holistic system of coordinated body postures and movement, breathing, and meditation to help cultivate balance and promote overall health.   Practicing around the time of the full moon can help us to reconnect with the rhythm of nature, and the added element of the sacred sound of the Paiste Chiron gong is additionally soothing and restorative.  No Prior experience required. 
First Meeting:  Wednesday, Sept 26th 
Time: 7:00 pm – 8:00 pm
Location: Oak Point Nature Preserve
  5901 Los Rios Blvd.
  Plano, TX 75074
  (972) 941-7250
Cost $25   Only 15 spaces available so reserve yours today!
Register Today at: https://apm.activecommunities.com/planoparksandrec/Activity_Search/18430
UPCOMING DATES:
WEDNESDAYS -
OCT 24TH
NOV 28TH WEEK AFTER THANKSGIVING
Schedule:
MONTHLY GATHERINGS AROUND TIME OF THE FULL MOON
BEGINNING WEDNESDAY, SEPT 26TH AT 7 PM - 8 PM
What to Bring:
YOGA MATS AND BLANKETS
WATER BOTTLES
Contact Information:
QUESTIONS:
OAK POINT NATURE PRESERVE (972) 941-7250
OR CALL GENIE AT 469-714-0374