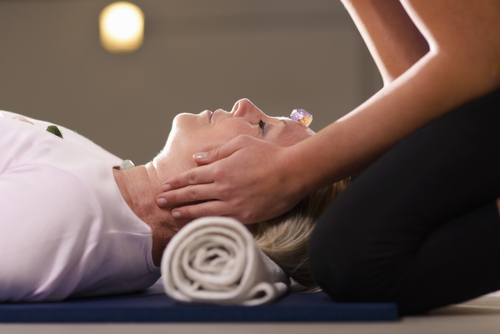 Event Dates:
Thursday, June 21, 2018 -

06:30

to

08:00
Event Presenter(s):
Kenny Kolter & Laura Tulumbas
Location:
4525 Lemmon Ave, 3rd Floor
United States
Price:
$60 ten days prior to event / $70 After
Let go of Stress & Recharge your Body, Mind & Spirit!
Are you tired? Fatigued? Feeling overwhelmed & run down? Trouble sleeping? Digestive issues? Disconnected?
Come discover a gentle way to unwind and reconnect with Reiki facilitated by the gentle vibrations of Sound Therapy while reclining in supported restorative yoga poses. Restorative yoga is a therapeutic style of yoga that is truly nourishing and healing on all levels of our beings - physical, mental, emotional & spiritual. It becomes even more powerful when combined with Reiki and Sound. This workshop is designed to bring balance & healing to the body, allowing you to find peace and tranquility within.
Reiki is an extremely accessible and valuable hands on energy system to support vitality and vibrancy. "Rei" means spirit or universal energy. "Ki" mean life energy. Reiki refers to a balancing of the cosmic and life force energies. By laying hands on different parts of the body the receiver is pulling the energy they need from the universal life force energy to support and heal their body.
While everyone reclines in these supported poses, Laura will be moving through the room offering Reiki Healing to help the body relax & shed tension.
Kenny will be adding additional support to the Reiki energy moving through the group. As Kenny plays, he paints a tapestry of layered sound vibrations, creating a further avenue for the body to release and let go.
Surrender your system to these powerfully healing modalities and leave feeling lighter, refreshed and recharged.
About this Presenter:
Kenny Kolter is a musician and certified reiki healer known for his transformative and nourishing gong meditations, has been playing percussion instruments since the age of 9 and practicing meditation since age 12. His sessions incorporate gongs, drums, rattles, chimes and Tibetan singing bowls to blend a range of soothing vibrations with rhythmic undertones that invite attendees to surrender tension and enter a meditative state that is still connected to the surroundings by sound.
Kenny approaches sound therapy and gong meditation with a subtle rhythmic quality, teasing out the vast array of tones, harmonics and shimmering nuances that reside within the instrument. His goal is to be a sound bridge between the energy and spirit that lie within the gong and to sonically draw out or tune into the energy and spirit that resides in all of us.
Kenny has led more than 1,300 Sound Therapy group sessions and facilitated hundreds of private sessions. After moving from Chicago, Kenny began sharing this transformational work with the Dallas community through The Dallas Yoga Center in 2012. He has also offering Sound Therapy in numerous health institutions including Hospitals, Cancer Treatment Centers, and Mental Health Facilities. He continues to be amazed by the power of sound in bringing the body, mind and spirit to profound state of a peace.
~~~~~~~~~~~~~~~~~~~~~~~~~~~~~~~~
Laura Tulumbas has been practicing yoga for over 18 years and teaching for 15+ years. She initially found her practice via the restaurant business: burnt out, exhausted and losing it, she sought out yoga as a way to help manage her stress. Through her practice she found a way to cope and ultimately a way to dive more deeply into possibility and create meaning in this crazy world.
Laura Tulumbas is a Certified Holistic Health Counselor and Lifestyle Coach, AADP, a Certified Yoga Teacher E-RYT 500 with Yoga Alliance and a Reiki Master. She is previously a Certified Anusara Teacher, certified to teach at Virayoga in NYC in 2002 and is presently teaching a form of aligned flow hatha yoga that has evolved from this knowledge along with Rajanaka Tantra, Ayurveda, anatomy, breath, and the subtle body.
In her office in the Wellness Center at DYC, Laura offers one-on-one nutritional counseling as well as and lifestyle counseling. Having seen and experienced the benefits of combining a yoga practice with daily routines and prescriptive eating according to her constitution she delights in educating others about the benefits of this path. She believes when we choose to fully step into our experience of being present and mindful we can make choices that will optimize our health, create vitality and offer us a life that we love.
Laura is a Reiki Master and offers one-on-one healing appointments using Reiki, a Japanese energy healing modality and crystals to unblock prana and move energy to unleash our greatest potential. 
Laura is in awe of the elegance and intelligence of the body and she remains curious about how to tap into the potency and the abundance it has to offer. Laura is grateful to all of her teachers especially her two boys who serve as her best teachers, challenging her, loving her, and keeping it real. She is grateful to have a daily practice that serves as a way to refine her experience on a daily basis.
What to Bring:
Wear comfortable clothing. 
Required Props:
Everything is provided. Bolsters, blankets and mats are already set up and waiting for your arrival.