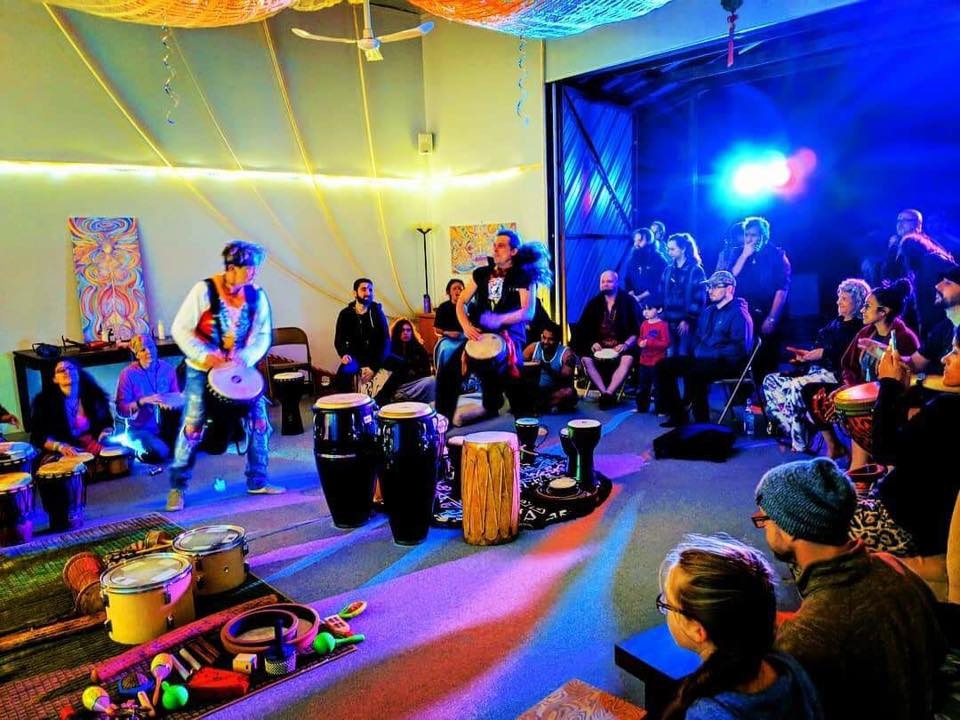 Event Dates:
Friday, October 12, 2018 - 05:00

to

Sunday, October 14, 2018 - 05:00
Event Presenter(s):
Amber Johnson & Ryan Taylor
In the beautiful hillside country of north Texas just a couple hours drive from Dallas there's a place. A place full of inspiration, ambition, release and aspiration. A place of hope. High Hope Ranch.
Join us at this magnificent piece of Native Texas as we host you at our soul created retreat based on the Yoga of rhythm and movement. 
Our Ancestors believed thousands of years ago that the initial way or means of communicating with the Spirits and the Divine was thru movement and mimicking nature thru the veil to the Other World. The Sonic Driver guiding the people to their Spirits was the rhythmic cues and pulsating rhythms of the drum. 
As the drums are driving and guiding your senses to movement, your kundalini begins to awaken. Your Serpentine Fire spreads upward flirting with your primal energy moving up to the Seven Pedals of our Soul. 
The aim of the yoga then being to rouse this serpent, lift her head, and bring her up a subtle nerve or channel of the spine to the so-called "thousand-petaled lotus" (Sahasrara) at the crown of the head...She, rising from the lowest to the highest lotus center will pass through and wake the five between, and with each waking, the psychology and personality of the practitioner will be altogether and fundamentally transformed."
With the known power of these two elements we would be honored to combine them for you at The Rhythms of Fire Tribal Movement and Sacred Drumming Retreat in beautiful Glen Rose, TX. 
Your retreat will include a majestic ranch will all the amenities. Two ranch houses with fully stocked kitchens, fridge and grill. To bring out the communal feel, we're organizing a community pot luck meal set up.
Schedule:
Day 1
Evening meal at 7.30 pm
Introductory workshop 
8.30pm
We introduce the talking stick ceremony and everyone has a chance to meet
We share how the weekend works and explain that everyone is welcome to take as much free time as they wish to relax and have a cup of tea, or just listen to the music.
The evening ends with a very mellow yet lounge style music with DJ Mati and Ryan Taylor on percussion finishing by midnight. 
Day 2
Yoga -Intro to Tantra at 10:00 am to 12:00pm with Amber as she guides you thru an Agni practice of building your inner fire. 
Afternoon talking stick circle at 1:00pm
Lunch at 2.oopm
Free time till 5.00pm
During this time you're more than free to join Amber for a scenic and meditative hike through trails and hills of this amazing piece of land where you can allow for connection with your guides and open to their message. 
Or make crafts in this time slot, or some people like to chat or nap.
We gather and explore the singing and celebration vibes of the sacred West African Healing Chant and Heartsong drum rhythms and dance at 5.00pm with Ryan Taylor til 6pm, a taste of the night to come! 
Afterward part in 'Story Time Theatre,' a very light-hearted and playful drama session.
Evening meal at 8.oo pm
The big night begins at 9.30pm
Fire and Flow! The evening's trance dance drumming session which can be very wild and magical as we invoke Spirit and our inner selves with Ecstatic Drums, glow, color, body paints that let your soul glow in the neon rhythm chamber while the Ancestors and Spirit Guides adorn you in their tree based sacred shrine. 
While the neon light shines your tribal colors a sacred altar will be placed outside by the Spirit Tree where you are free to bring any sacred offering from your heart and soul. The drumming and celebration wraps up around 1am 
Day 3
Dance of Life in the stone circle at 10.30 am
Morning talking stick circle at 11.00 am
Yoga Nidra at 12pm with Amber starting with the creation of Sankalpa, intention formed by the heart and mind that helps one achieve their dharma. 
Lunch at 2pm
Celebration drum and dance session at 3pm. 
Finish the weekend by sharing a highlight of our time together by passing the talking stick for a final time at 4pm
About this Presenter:
Amber Johnson E-RYT is a Certified Yoga Teacher with over 500 hours of training. She was initiated into the Tantric tradition of Sri Vidya and the lineage of Sri Swami Rama of the Himalayas by Shanon Buffington. Additional studies include ParaYoga under Rod Stryker and Trauma Sensitive Yoga with David Emerson. The focus of Amber's teaching is empowerment, self-mastery, and healing. By utilizing the teachings of the lineage, she guides students towards the door of awakening their true nature.
Ryan Taylor;
Ryan Taylor, the "Spirit Drummer", is a rhythmic sound healer, master drummer and drum circle facilitator using the power of drumming to bring ecstatic celebration, enlightenment and pure open bliss to all that experience his music and powerful events. He's worked with numerous genres of spiritual and healing groups, calling in the positive forces with his dynamic rhythm making and uplifting presentations to bring about a shift in energy from negative to positive for individuals, groups and large events. Ryan's medicine music has taken him all over the world, drumming for indigenous spiritual and healing events, corporate events, workshops, performances and presentations just to name a few.
Ryan is part rocker mixed with high energy and BIG drumming! He brings his rock n roll energy fueled by his love of playing and sharing to every event. His drum circles are rock meets tribal, healing meets empowering and motivation. You'll have an Earth-shaking experience when you join in his drum circles.
What to Bring:
Your favorite dish for day one's communal potluck. Any drums or music makers you have, yoga mat and props you have. If you do not have drums or yoga props there will be extras available for you to use. 
Cancellation Policy:
100% Refundable within 3 weeks of the event.