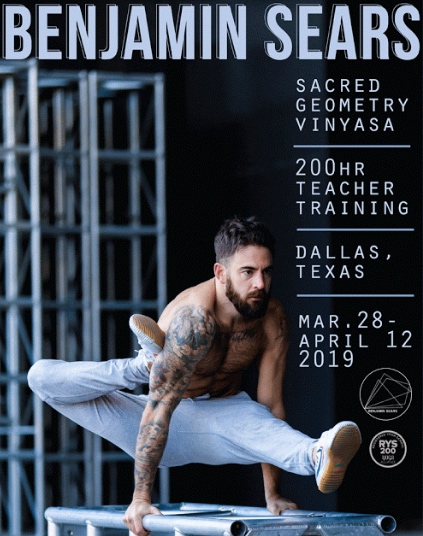 Event Dates:
Thursday, March 28, 2019 - 07:30

to

Friday, April 12, 2019 - 06:30
Price:
$2950 with LYD Discount - sign up NOW
Join Benjamin Sears and a team of experts for the acclaimed 200 Hour Sacred Geometry Teacher Training Intensive at Second Side Yoga in Dallas
Immerse in a proven, transformational program that will empower you to orient yourself on the mat, as a teacher, and in our ever-changing world – and be ready to teach effective classes right away. The Sacred Geometry bedrock of two proven sequences and a cohesive yet broad curriculum connects to a central paradigm of self-knowledge that will develop your practice and teaching long after the training is complete.
Transcend any one style of yoga and learn how the practice can fit each body. Develop a personal practice and find your voice. When the system is sound, the challenge reflects potential. YOU are potential! Become a Yoga Alliance Certified Teacher!
Enjoy an EXCLUSIVE $300 discount on the training to our Living Yoga Dallas audience. Lock in this rate now! 
Benjamin Sears Yoga Trainings are immersive experiences for personal transformation that will provide the skills to start teaching Yoga right away. Expect a comprehensive Yoga education with a fine balance between the traditional aspects of Yoga and the power of evolution and science.
Learn two Sacred Geometry Vinyasa sequences with variations and modifications for ability and injury, as well as functional mobility, handstand protocols from total beginner to press handstand and in-depth breathwork and meditation training.
+ Asana (Yoga Postures)
Master the basics to develop a strong practice and guide others – "learn your dog, dude." Know what a shoulder is supposed to do in Chaturanga, why how fold your body affects your knee, and a thousand more such basics that every teacher needs to know. More than learning postures, you will learn how to connect concepts across a practice to maximize healing and minimize injury.
+ 2 Sacred Geometry Vinyasa sequences: both sequences are complete practices with extensive variation options for all levels and necessary down-levels: Polish the Past (Backbends) & Arc of the Future (Hips, Folds & Arm Balances)
+ Morning Sacred Geometry Asana Intensives
These are the heart of the training. In a small group setting we will use variable techniques to ensure that you understand and the concepts essential to therapeutic and invigorating practice. The sequences will be used as the framework for dissection and expansion of postures and principles, and while you're warm, we'll get you assisting each other.
+ Pranayama (Breathing Practices) 
A personal Sadhana (practice) makes you powerful. Learn to go inside to come out stronger.
+ Dhyana (Meditation Practices)
+ Kriyas (Yogic Cleansing & Empowerment Practices)
+ Active Mobility : crucial for both long-term health and skill development. This aspect of the training is a combination of evolved flexibility and strength work plus Functional Range Conditioning.
+ Handstand Protocols From total beginner to press handstand; learn the steps to balancing confidently and how to keep others safe along the same path.
Schedule:
+ 7:30-8:15am // Awakening : Pranayama & Meditation
+ 8:30-11am // In-Depth Asana Practice
+ 11:00am-1:00pm // Break
+ 1-4:30pm // Afternoon Education Modules
+ 5:00-6:30pm // Sacred Geometry Vinyasa Practice / Education Module
** At the midpoint of the training there will be one day of light curriculum, self-care practices, and celebration.
About this Presenter:
Benjamin recovered from two herniated discs, five knee surgeries and the traumatic suicide of a loved one through consistent yoga practice.  A perpetual student and thusly a deeply knowledgeable teacher, Benjamin is Yoga Journal Influencer who in 2007 founded LUXYOGA, a wellness and lifestyle experience in the South of France named the world's premier yoga retreat and featured by Esquire, Vogue, Yoga Journal, and many others. Benjamin leads seminars worldwide, mentors yoga teachers, and leads acclaimed 200, 300 and 500 hour Yoga Alliance certified teacher training programs.
Benjamin graduated from UCLA with a Bachelor of Arts degree and has studied with the masters to earn multiple certifications across diverse systems. He staffed the Bikram Yoga College of India Teacher Training after receiving his certification, completed the Dharma Mittra Yoga 500 hour Training, two Forrest Yoga Advanced Trainings, has immersed in modalities including Astanga Yoga, the Ido Portal Movement Method, Modern Dance, and continues his studies with Abbie Galvin of Katonah yoga as well as in Ayurveda, anatomy, bodywork, mindfulness meditation, Mantra practice, and energy healing. As a bit of a Yoga renaissance man, Benjamin is able to teach the modalities he has studied in their original forms, but is deeply passionate about an ever-evolving practice that draws upon all of his experience to best serve the needs of his students. 
Benjamin believes that to teach yoga is to extend physical empathy beyond one's own body and now travels the world inspired to help students practice yoga in healing way. His therapeutic teaching style helps real people live better through yoga. Benjamin's ability to connect the poses to your body and the practice to your life in a practical and poetic way empowers students to appreciate the present and develop an action plan to progress. He recognizes that the students do their own work and hopes to help them stay safe and enjoy the process.