Thursday, October 2, 2014 - 00:00
Event Presenter(s):
Pandit Rajmani Tigunait, PhD, Spiritual Head, Himalayan Institute
Locations:
Sammons Center for the Arts
3630 Harry Hines Boulevard
United States
Price:
$30 in advance $35 at the door
Event Description:
"Renowned for over two thousand years, Patanjali's aphorisms on the practice and philosophy of yoga shine brilliantly, like a garland of jewels. Every sutra directly or indirectly helps us to understand the mind, turn it inward, and achieve life's purpose."
— Pandit Rajmani Tigunait, PhD
Schedule:
Thursday evening, October 2, 2014
6:30pm – 8 :30pm
How to register:
Register online (recommended) or call 214-366-2217
About this Presenter:
Pandit Rajmani Tigunait, PhD, is a modern-day master and living link to the unbroken Himalayan Tradition. He embodies the yogic and tantric wisdom which the Himalayan Tradition has safeguarded for thousands of years. Pandit Tigunait is the successor of Sri Swami Rama of the Himalayas and the spiritual head of the Himalayan Institute. As a young man he committed himself to arduous spiritual practice and studied with renowned adepts of India, before being initiated into the lineage of the Himalayan Tradition by his master, Sri Swami Rama, in 1976.
Pandit Tigunait is fluent in Vedic and Classical Sanskrit and holds two doctorates, one from the University of Allahabad (India), and another from the University of Pennsylvania. As a leading voice of YogaInternational.com and the author of 15 books, his teachings span a wide range, from scholarly analysis and scripture translation to practical guidance on applying yogic wisdom to modern life. Over the past 35 years, Pandit Tigunait has touched innumerable lives around the world as a teacher, guide, author, humanitarian, and visionary spiritual leader.
What to Bring:
Chairs will be provided for all participants for lecture. We do recommend that you bring your own bottled water, and wear lose comfortable clothing. If you wish to take notes bring a tablet and a pen.
Required Props:
If you prefer to sit on the floor during either lecture or practicum we encourage you to bring, blankets, a bolster or meditation cushion for your comfort.
Required Text:
The Secret of the Yoga Sutra- Samadhi Pada, by Pandit Rajmani Tigunait.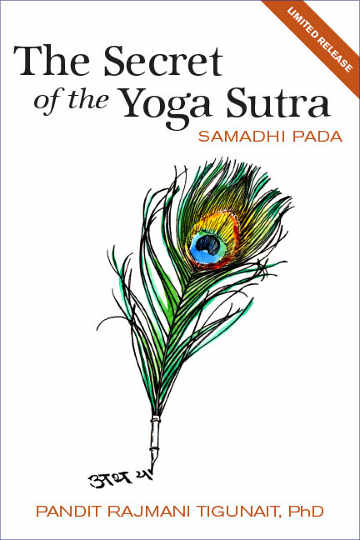 Cancellation Policy:
30 days prior to event. Refunds prior to Tuesday, September 2, 2014, only. If for any reason you are unable to make it you may "gift" your registration as long as you have notified us in writing with the name of your replacement. Exceptions to this policy cannot be made for any reason, including weather, traffic, illness, or personal emergencies.