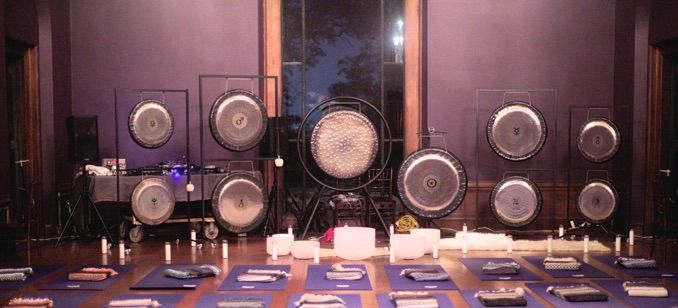 Event Dates:
Sunday, July 14, 2019 -

16:30

to

19:00
Price:
Free for SYC students with active membership
Non-members $35 to save your seat online or $40 at the door.   
**You can also choose to attend only the 4:30PM or 5:45PM portion for $20
Join us every 2nd Sunday for this transformational master class led by Patricia Alonso & Denae Richards.    We will explore grounding asanas and breath adaptation to help us release unwanted stress and soothe our nervious system.   Experience a higher level of vibration with the powerful healing sounds of Gongs, bowls and other instruments.  
Healing sound provided by Denae as she guides you into mindful meditation by way of sound.  Discover how the soothing sounds of healing instruments streamline the meditation process.  Sound delivers powerful waves into your mind and body, putting you in an instant meditative trance.  Your entire being elevates into a relaxed state where your mind slows & your body melts.  In addition, the sound stimulates the medulla in the brain stem activating the auditory nerve that connects with all the muscles of the body. This signals the body to relax and flood the brain with natural mood lifting chemicals.  This deep relaxation meditation sets the stage for healing at all levels. 
Schedule:
4:30PM  Mindful movement of asana with breath adaptaion to get grounded
5:15PM  Pranayama to prepare our nervous system to release any unwanted remaining tension
5:30PM  Transition to set up the "nest" for restorative yoga
5:45PM  Restorative yoga begins
6:30PM Savasana sound immersion