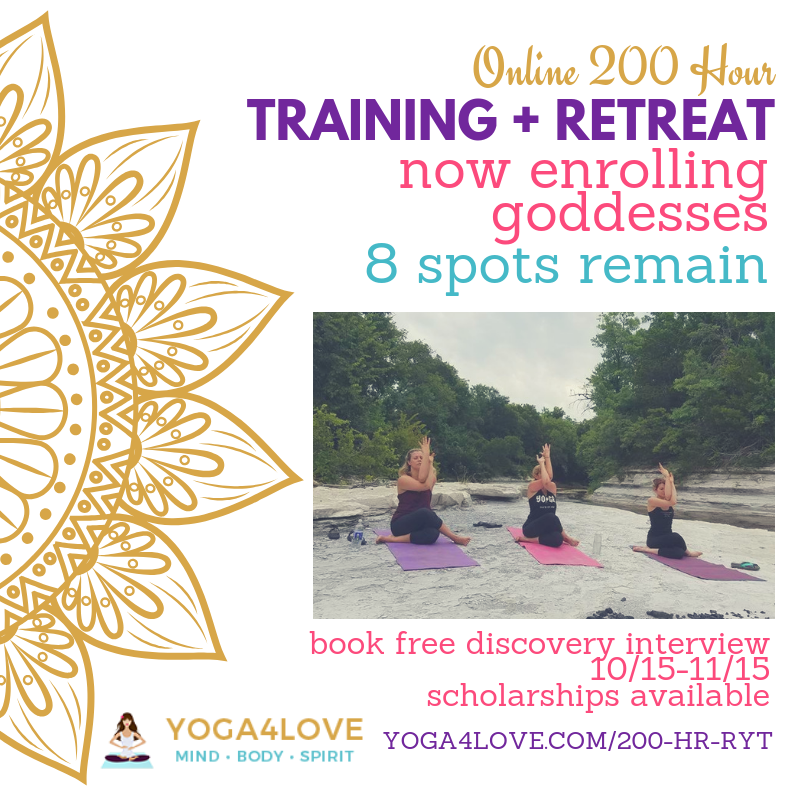 Event Dates:
Monday, January 28, 2019 - 01:00
Location:
Yoga 4 Love Online Advanced Training Programs with Lisa Ware
United States
Price:
$2500, 200 hour, $3300 300 hour
We empower the student to gain knowledge of and experience the gifts of the devoted yoga practitioner: Love, Harmony, Truth, Awareness, Well-Being, Appreciation, Joy, Peace and ultimately true Light + Oneness with Divine Source, if so seeking.
Fully interactive, guided training with included Yoga 4 Love Inner Goddessr Retreat.
Book a Free Discovery Session Mini Interview with Director, Lisa Ware:
APPLY NOW:
Bonus # 1: Registration for a Y4L Inner Goddess Retreat 2019 in Texas
Bonus #2: Reiki Training Level 1 or 2
Bonus #3: Baby Doll Yoga 4 Love Goddess Tribe Tee
Bonus #4: 25% off Hawaii All Inclusive Retreat Sept 16-22, 2019
Tracks:
Fast Track or Slow and Steady 
Each Track has:
6 required modules

18 hours of lessons

hOMework form the Syllabus for each module

Required reading

Personal daily practice hours

Super simple to fit into your life!

Complete your lessons on the website, do your practice, chat with the Tribe + fill in your Student Log and turn it in weekly!

Sabbaticals are available; medical, family and work or special circumstances.
24/7/365 ONLINE TRAINING
FULL SUPPORT FROM YOUR DIRECTOR, ORIENTATION COACHES, OUR TRIBE + OMAZING TEAM YOGA 4 LOVE
Start your Yoga 4 Love Training journey today!
Yoga 4 Love is a Yoga Alliance Registered Yoga School RYS 200 and RYS 500
Course Overview
This course is designed to take you from a raw beginner to a daily self care routine that you can use the rest of your life. Yoga 4 Love is a Life Enhancement Course! Enjoy the journey of Self discovery. Be part of the GODDESS TRIBE!
No Prerequisites
No yoga practice necessary

All levels can take this course

Very beginner to advanced practitioner

Heal yourself and help others!

No need to desire to teach yoga, do this for YOU!
Yoga Teacher Certification includes:
Foundational Modules 1-6

Teachings directly from Lisa Ware and her Directors

Lisa's Book Yoga 4 Love Tools for Mind, Body, and Spirit: For a Holistic Lifestyle: ORDER HERE

Audio Modules

Online hOMework

Yoga practices via audio and video classes

Live Video Classes, Lisa Ware's YouTube held weekly

Partner with your Goddess Tribe!!!

Fundamentals of an Ayurvedic self care practice

Self Love as a first priority

Accountability with your Director

Private and group chats off social media

Track of your choice, Fast or Slow + Steady

Graduation Online or at the next Retreat!

Course Curriculum

History of Yoga | The Yoga Sutras

Yoga Philosophy

Hatha and Vinyasa Yoga Asanas 101, 201, 301

Lisa Ware's Signature Vinyasa Flow Sequencing 101, 201 and 301

Lisa Ware's Signature Class Formats Yoga 101, 201, 301

Hatha Yoga Asanas 101b and c | Communication and the Business of Yoga

Goddess Archetypes and Empowerment

Basic Anatomy and Alignment 101

Teaching to Special Populations: Kids, Seniors, Injury Recovery, Pre and Post Natal

Cueing, Sequencing, Video Teaching

The Chakras

Cueing and Video Teaching

Sanskrit Basics

Pranayama

Meditation

Daily Sadhana Practice

Journaling

Daily Self Care
Book a Free Discovery Session Mini Interview with Director, Lisa Ware
Schedule:
Enrollment Periods for 2019 Online Training Classes with Personal Start Dates:
Jan 15-Feb 15
March 20-April 15
June 1-July 1
August 15-September 15
November 1- December 1
The program is available to you 24/7/365. Enjoy audio and video classes with a global community of Goddesses. 
We have 2 Tracks, you may choose from:
Fast Track (6 months, a module a month)

Slow and Steady (1 year, a module every 2 months).
About this Presenter:
Lisa Ware is an author, a life, business + health coach, a Shamanic Practitioner and Reiki Master Teacher and Executive Director of Yoga 4 Love Advanced Training Programs Online 200/300 Hour Certification. She has taught over 8K hours of hatha and vinyasa yoga. In 2008 she founded Yoga4Love.com in honor of her mom's positivity and inspiration. She is a seasoned yoga conference presenter, lecturer and offers yoga retreats in Texas and Hawaii. She is the President of the 501c3 DFW Free Day of Yoga, and has been on the Board of Directors since 2008.
Lisa's 'why' is to empower women to find their passion, platform and potential so that we may all live a life of vitality, abundance, prosperity and freedom.
Lisa loves reading Angel Cards, streaming live video classes for her YouTube channel 'Lisa Ware Yoga 4 Love', and writing. Check out her first book, published in 2018; Yoga 4 Love,Tools for Mind, Body, and Spirit: For a Holistic Lifestyle.
Lisa is a mom of two, her son, 20, is active duty Naval Nuclear Engineer mate, and her daughter, 15, is a fun-loving athlete. She is a happy wife married to Richard since 1992, who also teaches vinyasa yoga, acro and tree yoga.
Lisa's life work is to leave a legacy for her family, to impact the globe with wellness and yoga and bring forth tools to help positively transform and ultimately empower the lives of others.
Connect on Insta, SnapChat , Tumblr + Pintrist:
@yoga4lovelisa
What to Bring:
Yoga 4 Love Vision Statement:
At Yoga 4 Love we offer a sacred space for women to build a tribe in community with other like-minded sisters from all over the world. We create a safe and open place where women meet virtually, energetically and in person, facilitating healing, happiness, adventure and joy using the tools of yoga, whole food, meditation, Reiki and energy work.
Required Props:
Mat, 2 blocks, 1 6' yoga strap, bolster or meditation cushion, an open mind.
You will receive your Required Reading list when you enroll, many books are available for free as a PDF or a link.