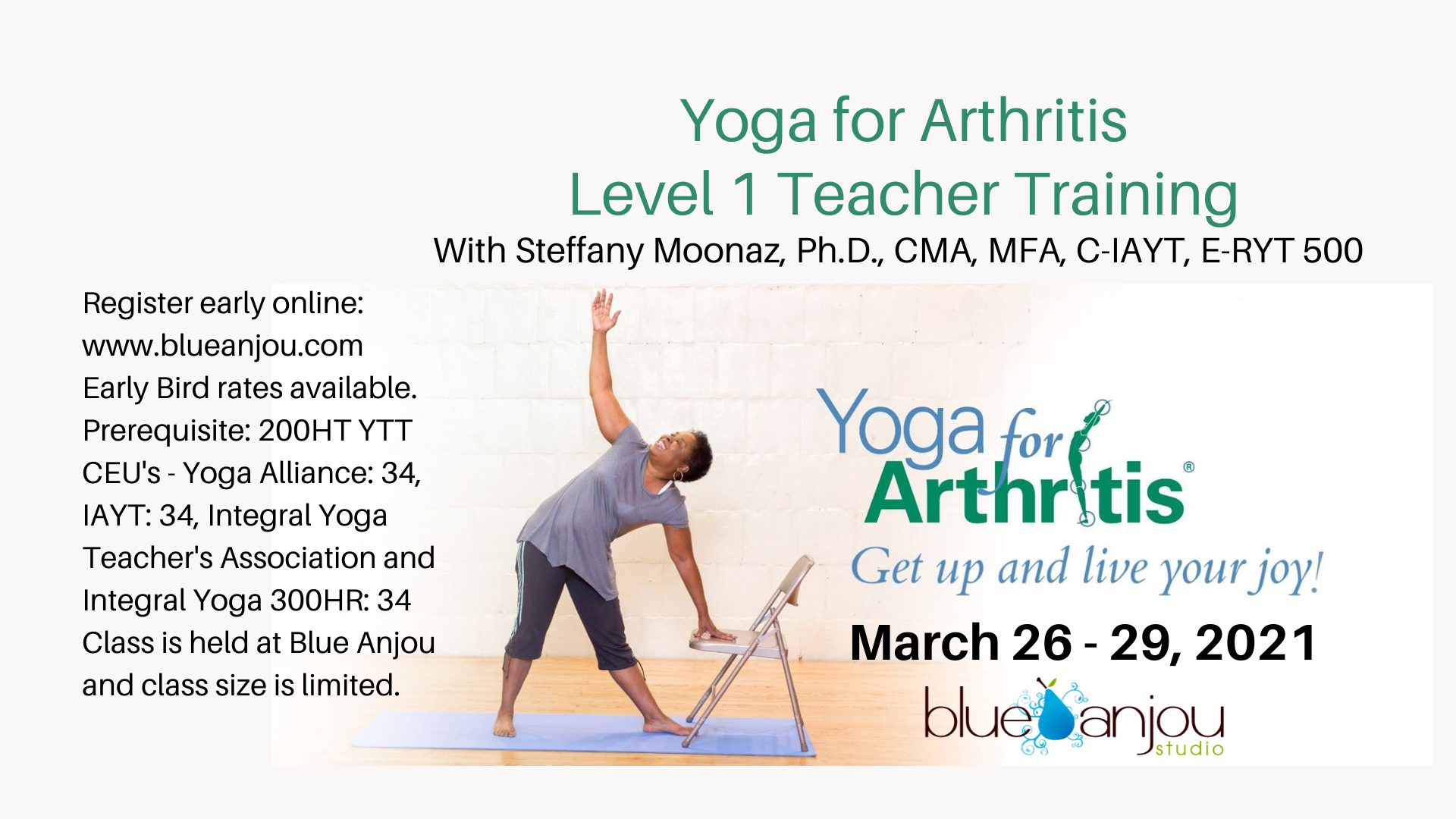 Event Dates:
Friday, March 26, 2021 - 08:00

to

Monday, March 29, 2021 - 05:00
Event Presenter(s):
Blue Anjou, Dr. Steffany Moonaz
Price:
$600 or $575 Early Bird by March 5th
This is Yoga for Arthritis's first Texas based Level I Training!
Yoga for Arthritis was developed by yoga researcher and arthritis expert Steffany Moonaz, PhD, along with an interdisciplinary team, including rheumatologists, psychologists, public health researchers and yoga therapists. Combining ancient yoga practices with modern medical knowledge, this program offers modifications to address the unique abilities and limitations of persons with arthritis. In a 7-year randomized clinical trial at Johns Hopkins University, the program's participation was associated with improved arthritis symptoms, physical fitness, psychological functioning and quality of life. Such evidence is vital for bridging the integrative yoga world with medical healthcare, making these practices more accessible to those who really need them.
This training is in person with Dr. Moonaz. The pre-course readining and digital material will be emailed before the training.
After completing this Level 1 training, you are qualified to teach Yoga for Arthritis program. Also, you will be eligible to continue toward Yoga for Arthritis certification, which includes Level ll mentorship and Level lll training.
Students must bring their own mask and props
Pre-requisite: 200 Hour Yoga Teacher Training
CEU's - Yoga Alliance: 30 contact, 4 non-contact. IAYT: 34 hours. Integral Yoga Association (IYTA):  Can provide you a CE certification. Integral Yoga 300 Hour: 34 hors towards RYT 500 designation.
March 26th - 29th. 8am - 5pm daily.Very limited space.
This training program trains yoga teachers to safely and effectively impart rigorously researched yoga practices, with individually-tailored modifications, to those with arthritis and related conditions. As a result of taking this Yoga for Arthritis teacher training program, participants will be able to:
Become familiar with the most common arthritic conditions, including osteoarthritis, rheumatoid arthritis, fibromyalgia, psoriatic arthritis, etc.
Understand joint anatomy and pathophysiology as related to arthritis in depth
Offer modifications for joint limitations and chronic pain
Teach Yoga for Arthritis classes in their communities
Work individually with arthritic clients of all ability levels
Schedule:
Training Dates are march 26th - 29th from 8am until 5pm daily.
About this Presenter:
About Dr. Steffany Moonaz:
Dr. Steffany Moonaz is a yoga therapist and researcher in Baltimore, MD and serves as Director of Clinical and Academic Research at the Maryland University of Integrative Health. She became curious about importance of mind-body activities at a young age, and has always had a passion and a curiosity about the healing power of mindful movement. She completed undergraduate work in biology and dance at Oberlin College, earned a MFA from University of Maryland as well as a CMA from the Laban Institute and spent eight years at Johns Hopkins University, helping to develop and evaluate a yoga program for individuals with the chronic diseases of rheumatoid arthritis and osteoarthritis, which became the basis for her PhD in public health.
Along with ongoing research collaborations at the National Institutes of Health, Einstein, Sinai and Montefiore Hospitals in New York, and University of Maryland, Dr. Moonaz is working to bring yoga to people with arthritis in communities around the country, as well as educating yoga teachers and yoga therapists about the unique needs of this population. She currently leads Yoga for Arthritis teacher training programs nationwide and serves as a mentor for several emerging researchers who are working to study the effects of yoga for various health conditions.
Dr. Moonaz's work has been covered by Time, HuffPost, the Baltimore Sun, and U.S. News and World Report. She has been invited to speak at Emory University, Brigham and Women's Hospital, Johns Hopkins Palliative Care, and the Smithsonian. Her Arthritis-Friendly Yoga DVD, produced by the Arthritis Foundation, has been their best-selling product since its release in 2013. Her book, Yoga Therapy for Arthritis: A whole-person approach to movement and lifestyle, was published by Singing Dragon Publishers in December of 2018.
Required Props:
Please bring a mask, yoga mat, strap, blocks, blankets, and a bolster.