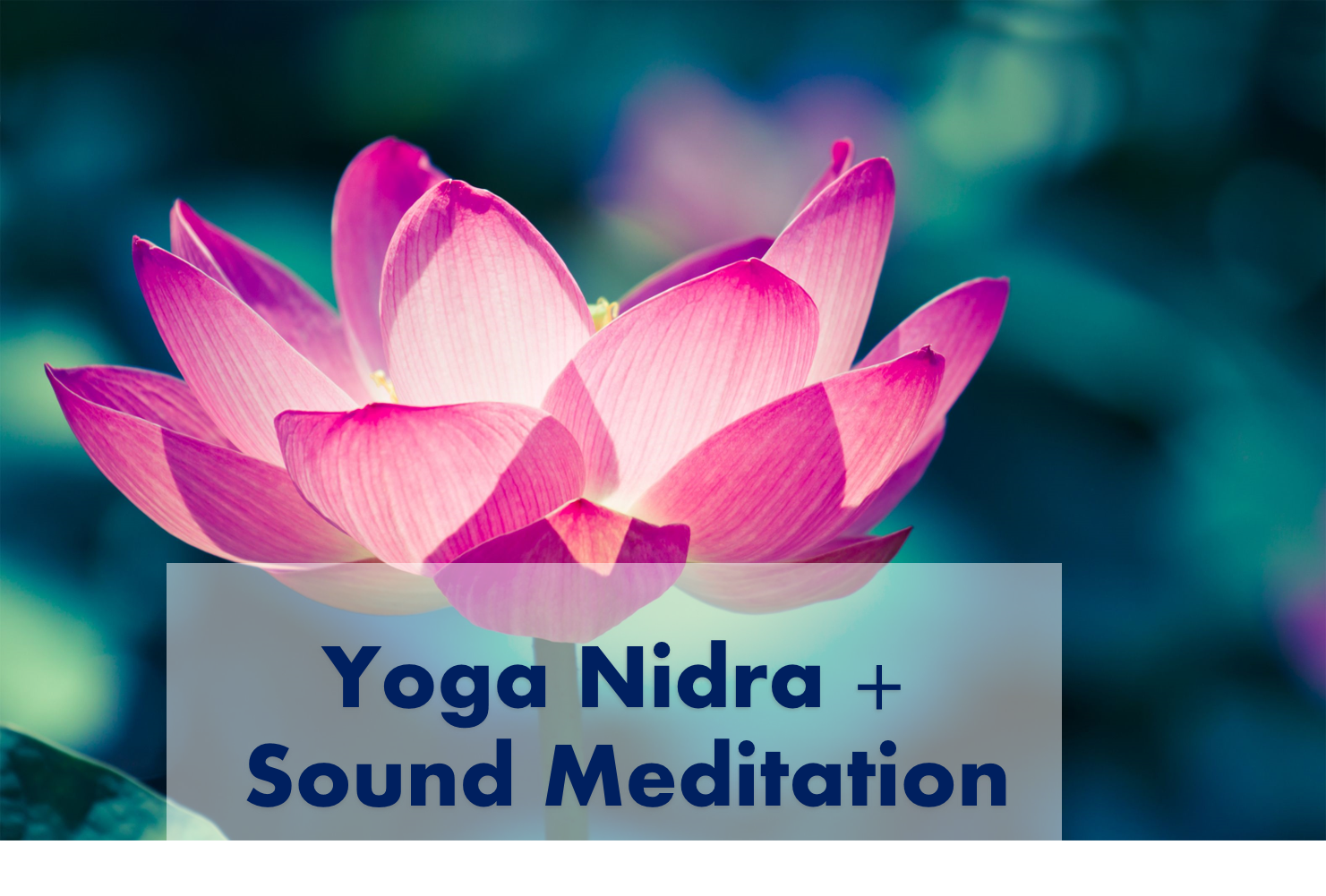 Event Dates:
Tuesday, September 17, 2019 -

19:15

to

20:30
Event Presenter(s):
Kirsten Joy & Genie Johnson
Did you know that one of the original intents of yoga is said to have been to help prepare the body and the mind for meditation?  
Yoga Nidra is a porcess that combines physical and mental stimulation to produce states of deep relaxation.  And it's a practice that's easy to follow, making it ideal for all skill levels. Now add the soothing sounds of the crystal singing bowls and you're set for your best rest.  For beginners and adepts, this is an enriching practice.  Join us and give it a try and make it a regular part of your self-care routine. 
More info here: https://www.westsidewellnessdallas.com/calendar/2019/9/3/yoga-nidra-sound-meditation-3h5zr
Yoga nidra, or yogic sleep as it is commonly known, is an immensely powerful technique, and one of the easiest yoga practices to develop and maintain. Yoga Nidra allows you to move info a deep state of peace - simply by lying on your back, and going through a systematic process of deep relaxation.
Coupled with the benefit of Sound Meditation, the outcome can be transcendent - moving you into a new experience with your self, your body and your mind.
1. Anyone Can Do Yoga Nidra
Intense vinyasa flows and long asana holds are not for everyone. Yoga nidra, however, is a practice that everyone, from children to seniors, can do. It's easy to follow at any age. All that your body needs to do is lie down on the floor. And even if you can't lie down on the floor, you can still do this practice seated.
2. You Cannot Practice Yoga Nidra Incorrectly
As you lie down, supported in savasana, all you have to do is follow the voice that is guiding you. It's likely that you will remember certain parts of the meditation and not others. Every time you come to the practice you encounter a new experience—none of which is wrong. Falling asleep is okay too, as you will still receive benefits while the unconscious mind is absorbing the practice.
3. Yoga Nidra Is Easy to Incorporate into Your Daily Life
Seated meditation can be frustrating—trying to clear the mind, bring awareness back to the breath, or find inspiration for focusing. Yoga nidra is always guided, so there is no intense thinking or wondering why you are staring at a blank wall. A yoga nidra practice can be as short as five minutes and as long as an hour. You choose the length. You may find that the easiest way to accommodate a yoga nidra practice is to make it part of your daily bedtime routine. Put the headphones on, practice right in your bed, and then drift off to sleep. Although this is not the most conventional way to practice yoga nidra, you have no excuse not to do it if you're going to be lying down anyway.
4. It's a Simple Way to Reduce Stress
Yoga nidra promotes deep rest and relaxation that isn't found in your average meditation practice. The stages of body scan and breath awareness alone can be practiced to calm the nervous system, leading to less stress and better health.
5. Yoga Nidra Offers the Opportunity to Learn About Yourself Intimately
Some people crave the profound relaxation that this practice instills, while other practitioners use the non-judgmental and secure atmosphere that yoga nidra provides as a window into themselves. Yoga nidra offers a space to explore what you need in the moment, as well as an opportunity to work on releasing long-held emotions. During yoga nidra you are able to experience an emotion and come "face to face" with what you want to overcome, without "diving into it" completely—meaning without feeling the emotion so completely that you become overwhelmed. Over time you continue to experience the emotion and associated feelings, moving deeper into the practice.
Yoga nidra offers a space to explore what you need in the moment, as well as an opportunity to work on releasing long-held emotions.
Yoga nidra can serve as a pathway to freedom without creating bodily stress. A samskara (mental groove) is formed by a repetitive thought or habit that is deepened in the mind and body, creating a mental impression (groove) over time. These impressions can cause negative reactions and emotions which prevent a unification of the five layers (koshas) of one's self. If these negative emotions continue to plague you, the mental/emotional layer of the self is unable to integrate with the other layers: physical, energetic, higher wisdom, and bliss body. This is where yoga nidra can be especially helpful.
find out more at Yoga International
Schedule:
Tuesdays
Beginning Sept 17th
7:15pm – 8:30pm
About this Presenter:
Your Facilitators:
Kirsten Joy - Yoga Scientist, Master Teacher & Educator, Kirsten crafts each practice to address your current and ongoing health & wellness lifestyle needs. She specializes in Therapeutic Yoga, Kundalini Tantra, Yoga for Anxiety & Depression, and Yoga for Graceful Aging.
Genie Johnson – The Sound Masseuse, uses her Sound Healing certification, background as a licensed Spiritual Coach, training and experience as a Mindfulness Facilitator, to bring you offerings of depth, that help you center and connect with the larger, vibrant, vibrational wholeness of life.