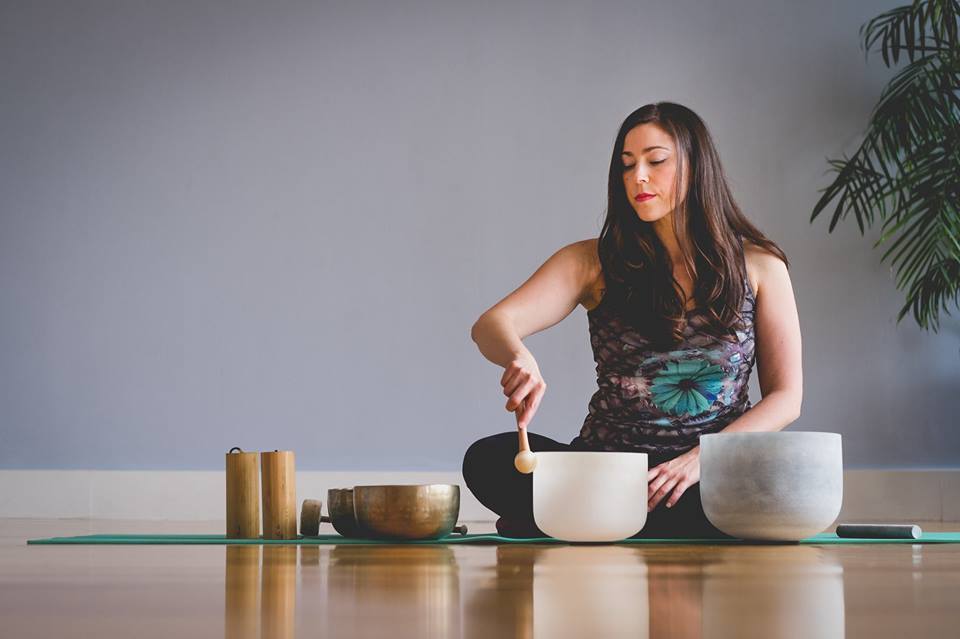 Event Dates:
Friday, June 15, 2018 -

06:30

to

08:30
Event Presenter(s):
Lauren Margolies & Kenny Kolter
Location:
4525 Lemmon Ave, 3rd Floor
United States
Price:
$35 ten days prior to event / $45 After
Join Kenny and Lauren for the ultimate in nourishing rest. This session will include a guided Yoga Nidra, or Yogic Sleep, with therapeutic sound vibrations.
 The session will begin with a guided meditation to center your energy and focus the mind while bathed in vibrations from Kenny's gongs. Then you will explore bringing sound into the body through the use of toning (chanting with seed sounds). Your body will be surrounded by sound – both inner and outer waves of vibrations. Toning allows an intimate connection with where energy is not moving in the body and assists in removing resistance and releasing energy to flow more freely.
Lauren will then guide you on exploration of the inner landscape with guided imagery and instructions (Yoga Nidra) to slowly release tension in the body, step by step as you recline on a nest of blankets and bolsters. Yoga Nidra is the art of leading the body and mind into a dream-like state without losing full awareness. It has been shown to be a powerful way to guide the brain out of Beta waves (more alert, anxious) into Alpha waves (more mindful, relaxed). Many have said that a small amount of Yoga Nidra is as beneficial as many hours of sleep.
Once you are lulled into this dreamy state, you'll have the opportunity to more deeply connect with the magical vibrations of the gongs, bowls, and chimes. You'll awaken feeling a sense of renewal and bliss in every cell of the body. Come unwind, and completely let go of stress with this winning combination.
About this Presenter:
Lauren Margolies began practicing yoga in 2003 as a way to increase flexibility, but it quickly became apparent there was much more to be found. After years of trying many different styles in several studios, she found her deepest connection with a sound-vibration based power practice. This approach connected her to the amazing gift of meditation through asana, which led her to explore other meditation forms & various workshops. After having two children, as a working mom, the importance of her yoga practice became paramount in helping create harmony in daily life.
Through teacher training at the Dallas Yoga Center, Lauren discovered new ways to connect with sound meditation and restorative yoga, which once again shifted her entire perspective and practice. A profound interest in holistic wellness has led her to study Ayurveda, pranayama, aromatherapy & more.
Lauren's goal as a teacher is to compassionately guide others to find more balance and peace through yoga and meditation. She hopes everyone can experience deep connection to oneself and pure bliss through any style of practice, yin to yang, and take what they learn with them off the mats.
~~~~~~~~~~~~~~~~~~~~~~~~~~~~~~~~~~~~~
Kenny Kolter approaches sound therapy and gong meditation with a subtle rhythmic quality, teasing out the vast array of tones, harmonics and shimmering nuances that reside within the instrument. His goal is to be a sound bridge between the energy and spirit that lie within the gong and to sonically draw out or tune into the energy and spirit that resides in all of us.
Kenny is a musician and certified reiki healer known for his transformative and nourishing gong meditations, has been playing percussion instruments since the age of 9 and practicing meditation since age 12. His sessions incorporate gongs, drums, rattles, chimes and Tibetan singing bowls to blend a range of soothing vibrations with rhythmic undertones that invite attendees to surrender tension and enter a meditative state that is still connected to the surroundings by sound.
Kenny has led more than 1,300 Sound Therapy group sessions and facilitated hundreds of private sessions. After moving from Chicago, Kenny began sharing this transformational work with the Dallas community through The Dallas Yoga Center in 2012. He has also offering Sound Therapy in numerous health institutions including Hospitals, Cancer Treatment Centers, and Mental Health Facilities. He continues to be amazed by the power of sound in bringing the body, mind and spirit to profound state of a peace.
What to Bring:
Wear comfortable clothing. 
Required Props:
Everything is provided. Bolsters, blankets and mats are already set up and waiting for your arrival.