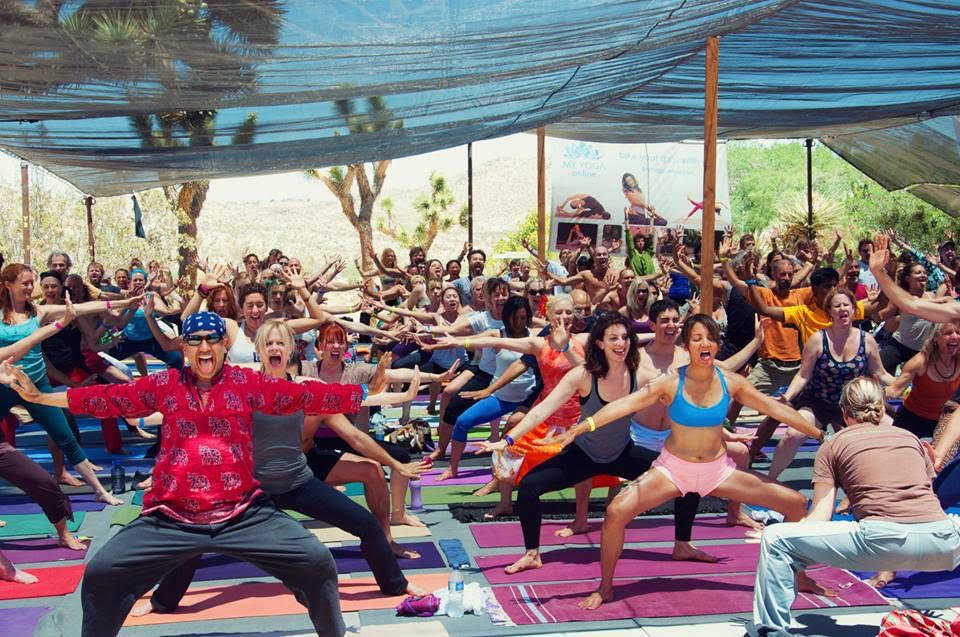 Event Dates:
Saturday, February 29, 2020 -

09:30

to

11:30
Living Yoga Dallas & World Bhakti
Move with devotion! Yoga flow combined with Bhakti music, guided by Sean Johnson, brings a new feeling of fitness, fun, and joy.
Practice this asana infused with deep meaning, and inspiration- which is especially effective when we're feeling burnt out, dried up, or dull.
This playful all-levels practice will include storytelling from the mythical world of yoga, heart-felt kirtan chanting, graceful vinyasa sequences, and evocative live music.
Sean and the band have guided this workshop at festivals and conferences across the country including sold-out attendance at The Yoga Journal Conference and Bhakti Fest.
The workshop will be accompanied by the live grooves of The Wild Lotus Band, featuring guitar and bass player Alvin Young and percussionist and vocalist Gwendolyn Colman.
Deepen your connection to the spirit of life by merging the heart-opening qualities of bhakti yoga with the sensuality and vitality of asana.
Sean's creative integration of imaginative music, yoga, storytelling, and poetry emulates his passion for music which ranges from rock, Irish folk music, Indian and Sufi devotional music. UNIQUE INDEED!
part of the World Bhakti Festival - enjoy FREE yoga classes, education workshops, and more. Shop local vendors and eat food prepared and served by Kalachandji's Express!
find out more and join us for the live music concerts Friday Feb 28th and Saturday Feb 29th
About this Presenter:
New Orleans native Sean Johnson is the founder of the band and loves to inspire people through a creative integration of imaginative music, yoga, storytelling, and poetry. His passion for music ranges from a deep appreciation for the transcendental power of rock, Irish folk music, Indian and Sufi devotional music.  He's been leading kirtan for the last twenty years. His voice is equally influenced by his roots in New Orleans, vocal exploration of his ancestral Irish heritage, as well as study in Indian vocal music and love of the path of bhakti yoga– the yoga of the heart.
Sean is also the founder of Wild Lotus Yoga studios in New Orleans, and Soul School, an interdisciplinary yoga and spirituality teacher training program that focuses on teaching yoga with skill and imagination. He has a Master's degree from The Naropa Institute with a focus on teaching chant as spiritual practice, has written articles for  Yoga Journal, and is the co-curator and co-producer of Putumayo's music for yoga series. His signature "Bhakti On The Mat" yoga workshops, often accompanied by the band, playfully weaves yoga, live music, chanting, storytelling, poetry, and ritual.
What to Bring:
your mat and any props you enjoy using