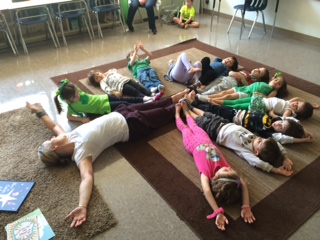 Event Dates:
Friday, January 21, 2022 - 09:00

to

Sunday, April 24, 2022 - 06:00
Price:
$1330 Paid In Full, $1470 installment plan
Are you interested in teaching yoga to kids? Complete your journey with yy4k, the only dedicated RYCS in the Dallas/Fort Worth area. Kids yoga is ALL we do at yogees!
Our syllabus is broken down into one practicum and five teaching modules, all of which enhance our chances of positively and effectively providing success for our future teachers and ultimately the children they have the good fortune to teach. Module 1 can be taken as a stand-alone course or in a series to meet the requirements of 95 hours of instruction to achieve the Yoga Alliance designation of Registered Children's Yoga Teacher or Certified Children's Yoga Teacher. Modules are approximately one weekend per month for 4 months, beginning twice per year. *No refunds, no exceptions. Cancellations not available within 30 days of the start of training sessions.
What do you get with our program?
Our program is unique in many ways... but one of the biggest differences is the value. ​
77 hours of contact training with lead teachers

18 hours of practicum

a "bag of tricks" in your first module to set you up for success ($200 value)

listing on our website on the teachers page ($100/year value)

access to training videos of Taylor and Heather teaching kids yoga classes ($45/ month value)

access to lesson plans ready to teach ($45/month value)

assistance marketing classes through our social media ($500/year value)

ongoing business support with our Director of Marketing and Curriculum ($1000/year value)

creative support with our CEO and Owner/Visionary ($1000/year value)

business plan assistance 

continuing education opportunities

opportunity to become a yogees yoga 4 kids ambassador teacher/business
Schedule:
Jan 21-23, Module 1
F 5-9, Sa 8-6, Su 8-6
Feb 18-19, Module 2
F 5-9, Sa 8-6
March 25-27, Module 3 & Mindfulness
F 5-9, Sa 8-5, Su 9-5
April 22-24, Modules 4 & 5
F 5-9, Sa 8-6, Su 8-6
​
Live via zoom and in person at The Mat Yoga Studio, Dallas or Hybrid 
About this Presenter:
We create a unique yoga journey for children through books, music, imagination and fun!
OUR MISSION
yogees yoga 4 kids introduces the practice of yoga and mindfulness to children through books and games in a fun, safe and nurturing environment.   We encourage strong mental and physical health and abide by the philosophy that in yoga "everyone is a winner!"
What to Bring:
Pens, pencils, binder and dividers
Water/tea cup
Props you need to practice and sit comfortably
Cancellation Policy:
No refunds on deposits
Cancellations accepted within 30 days PRIOR to the start of training