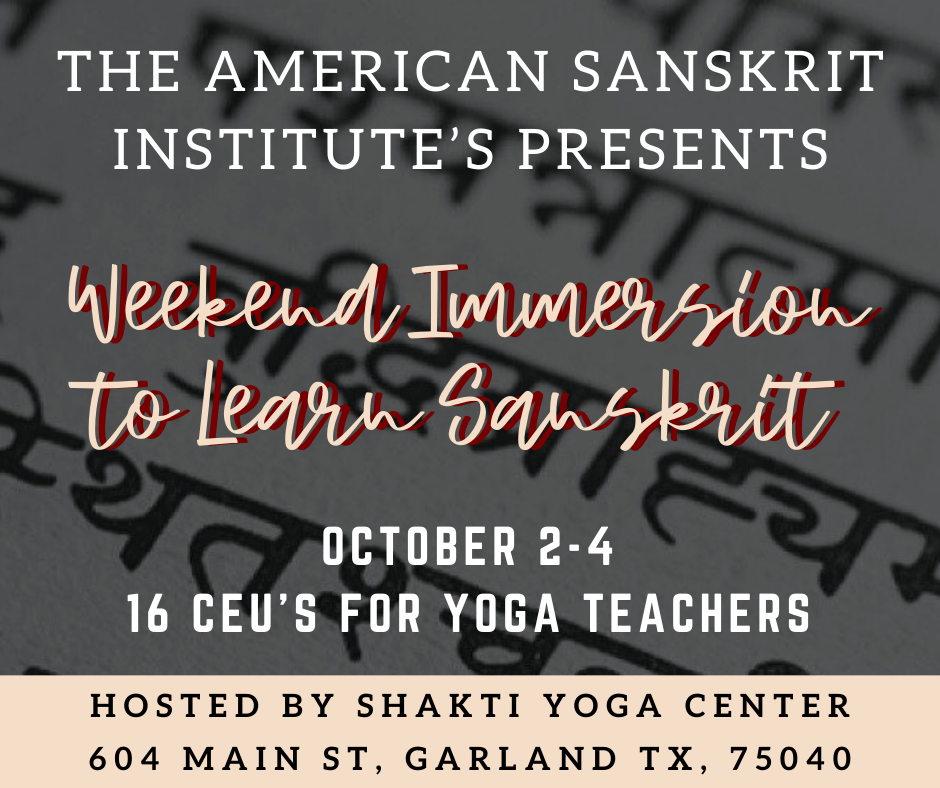 Event Dates:
Friday, October 2, 2020 - 06:00

to

Sunday, October 4, 2020 - 21:00
Event Presenter(s):
Zoe Mai from the American Institute of Sanskrit
SUPER EARLY RATE of $225 until March 15.  Early bird $250 begins March 16 thru August 30th.
PERFECTLY REFINED
Knowledge of Sanskrit makes it possible to grasp the subtleties of yoga, whose body of teachings are written in Sanskrit. Therefore, anyone can resonate with Sanskrit timeless sounds—and connect to words and ideas incredibly beautiful and profound.
Since ancient times the practice of yoga has included the study of Sanskrit and the chanting of Sanskrit mantras to induce calm and clarity in meditation.   Consequently, Sanskrit is integral to yoga meditation and its pure sounds essential for harmonizing and balancing the mind.
--------------------------------------------
REWARDS ARE MANY, for those who take the time to see, hear and feel the power and elegance of Sanskrit.   Because of this, anyone interested in yoga philosophy particularly benefit from this study.
This weekend workshop will give you intimate familiarity with the unique points of resonance in your own palate that support Sanksrit's sacred sounds.  Furthermore, you will be firmly grounded in proper pronunciation of this ancient language.   Additionally, along the way you will learn the alphabet—itself a lovely chant.  Last, you will receive the tools you need to explore your favorite sutras and chants in the beautiful script of Sanskrit, devanāgarī.
This Sanskrit Training is an educational adventure that will give you a permanent connection to the beauty and energy of Sanskrit as well as a dynamic model of yoga in the classroom that supports a natural and effortless focus.
The American Sanskrit Institute's teaching method, developed over many years by Vyaas Houston, makes learning Sanskrit stress-free and FUN!
-------------------------------------
This training satisfies 16 hours of continuing education as per Yoga Alliance guidelines.   Additionally it is a core component of Shakti 200HR YTT
Schedule:
Friday 6-9PM
Saturday 10AM – 6.30PM
Sunday 10AM – 5.30PM

**Sat & Sun include 90min lunch break
About this Presenter:
Zoe Mai is the director of the American Sanskrit Institute. She studied with Vyaas Houston from the summer of 2006 until his retirement and has been dedicated to teaching Sanskrit using the ASI Learning Model since 2007. She developed the current ASI teacher training, and continues to develop and co-create Sanskrit course offerings with Vyaas.
Zoe is committed to the ongoing development and growth of the Institute. She sees herself as a steward of ASI and is devoted to the organization's original vision - that anyone can learn Sanskrit.
At ASI the study of Sanskrit is the practice of yoga.
For Yoga students in the West, āsana is the first prong of Śiva's trident. Sanskrit and Sanyama are the second and third. Zoe envisions a future in which Yoga Studios become Learning Centers, where all three components are taught and the elements of each practice inform the others.
Zoe has created such a learning center, Trishula Yoga, where her Apprenticeship Program incorporates the ongoing study of asana, Sanskrit and Meditation (specifically the Sanyama Meditation).
The ASI model of learning is, in essence, the application of Sanyama to the study of Sanskrit. When āsana, Sanyama and the study of Sanskrit are the three prongs of a learning curriculum, they work together synergistically creating opportunity for deeper understanding and connection to the true meaning and experience of yoga. For example the Sanyama meditation on the element air can be applied while practicing asana; then the practice of āsana becomes much more powerful and and in turn broadens the students understanding of Sanyama. The study of Sanskrit language naturally deepens all studies as most traditional yogic texts are written in Sanskrit. It is the language of yoga.
As steward of ASI and having seen the depth and healing that occurs as a result of this three-pronged approach to yoga, Zoe seeks to provide support to yoga schools and communities that would like to incorporate Sanskrit and Sanyama into their daily practices. Such yoga communities are the yoga centers of the future.
-------------------------
The American Sanskrit Insitute offers every stage of Sanskrit Studies starting with a deep grounding in the Sanskrit Alphabet provided in our breakthrough Weekend Sanskrit Level I.  The study of Sanskrit is made simple and enjoyable.
The American Sanskrit Institute was created in 1989 by Vyaas Houston with a vision of Sanskrit as a direct means to access a personal experience of beauty and truth revealed in ancient sacred texts.
At ASI our goal is to inspire you; to initiate a love for learning rooted in the immediate moment's discovery of a captivating detail of an ancient knowledge system. We've found such a love of learning to embody the essence of Yoga. Sanskrit provides us with a language that is one with the vast body of knowledge codified in Sanskrit by an unbroken lineage of rishis, sages who fathomed the depths of life, uncovered its meaning, and described with precision and clarity the passage through.
We provide the full support our students need to have a clarity of articulation and grasp of grammar that reveals the pure harmony of sound and meaning; our goal is to capture through a sacred language the essence of ancient times when there was no separation between the word and its meaning; between the language and the body of knowledge it conveyed; between rishis' individual lives and the whole of existence perfectly mirrored in the language they refined and made one with the subtle truth they desired to pass on.
In our experience, the love of Sanskrit goes hand in hand with a love of the recognition of meaning revealed. Love becomes awe as one sees that all the moments of insight begin to fit together into a perfect whole. As one becomes more proficient in Sanskrit there's an acceleration of insight.. Basking in a light that beams down through hundreds of generations over many milennia, the lover of Sanskrit selectively extracts and refocuses the truth uncovered in monumental literary works like the Vedas, Upanishads, the great epics of Yoga – the Ramayana and Mahabharata, Gita, Puranas, Sutra literature like the Yoga Sutras, sciences like Grammar and Ayurveda, works of great Kavis like Kalidasa and sages like Shankaracharya. This truth transforms one's life and creates the certainty of freedom.
Contact Information:
Patricia Alonso (469) 223.6673