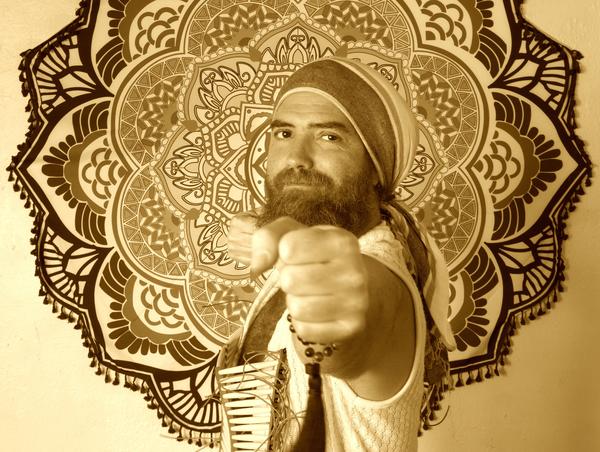 Event Dates:
Saturday, November 3, 2018 -

13:00

to

16:00
Price:
Contribution $60 at the door. Pay only $50 by saving your seat online
Are you ready to release the emotional and energetic baggage and renew your whole being?
This work is designed for those who want to cut the cords of our past patterns and programs that are keeping us grounded in anxiety, anger, depression and stagnancy. Together we will dig deep, spelunking the Soul and excavating the depths of our Being, so that we can have an actual experience of letting go. It is called a Warrior Path because it takes great courage to face the shadows within us, and all these techniques are potent individually, so you can only imagine what all of these together can do. Join us for a liberating class led by Daniel Katsük, who brings a child-like joy and creativity to helping facilitate a deeper connection with our bodies, mind and Spirit. Accompanied with live flutes, guitar, percussion, singing bowls and gong, this is a safe space to let go, be free, dance, sing and witness where we are at the core of our Being. Space is limited, so don't miss out!
Synopsis:
Opening discussion on Letting go and starting over
Group Inquiry is an art of sharing that makes it possible to objectively understand and penetrate the patterns and structures of perception and Being.
Kundalini Kriya – Getting Distress Out of the Body: This kriya stimulates the bodies energy to move, releasing stagnant energy to heal the body. It is a tune up that relieves the body of built up stress and tension to get the body out of distress.
OSHO's Dynamic Meditation is a fast, intense and thorough way to break old, ingrained patterns in the bodymind that keep one imprisoned in the past, and to experience the freedom, the witnessing, silence and peace that are hidden behind these prison walls.
Musical Meditation followed by an uplifting Kirtan Concert
Schedule:
November 3rd from 1PM to 4PM
About this Presenter:
Daniel Katsük is a music therapist, songwriter, author, producer, voice actor, Kundalini Yoga instructor, graphic designer, music teacher and all around creative MacGyver, currently based out of Fort Worth, Texas. Picking up the guitar at thirteen, songs came quickly. 
Over four hundred songs later, ten published albums, national tours, movie and television credits, Daniel has put a hand into almost every creative outlet imaginable. 
After running off to join the gypsy rock circus known as Spoonfed Tribe and touring with this wildly imaginative group for eight years, Daniel left to pursue his own music, forming a group called A-hummin' Acoustical Acupuncture (AAA). Another expression to emerge from these enriching musical connections is a group called The Skin & Bones Drum Cult, an improvisational drum collective that is more live sonic theater, than band. During these times, Daniel's music wound its way onto Cartoon Network and a voiceover career with FUNimation. When AAA disbanded, Daniel's music moved into a new state of evolution, choosing the name KatsüK, which roughly translated in Seminole, means the "Center of God's Heart/Creation."
What has spawned from these vastly different musical expressions is a Sound that is simultaneously pioneering, refreshing and familiar. With the incorporation of Native flutes, guitar, vocals, tanpura, singing bowls and percussion, the Golden Thread interwoven into all these musical outlets is a powerfully emotive and uplifting experience. With a wide assortment of originals and covers, Daniel has the ability to fulfill the needs of any room.  Whether through solo music accompanying Yoga or intimate venues, touring with KatsüK or The Skin & Bones Drum Cult, voiceover work, writing, teaching, or graphic design, there is an unmistakable Resonance that will leave any listener moved and transformed.
"The cornerstone of every moving song is a personal connection with the challenges and accomplishments of others."  ~Daniel Katsük~
What to Bring:
Anything you need to sit comfortably.  Snacks in resealable bags.  Non-breakable refillable bottles of water and lots of positivity
Cancellation Policy:
50% refund if cancellation is given before 30 days of event.   No refunds after.