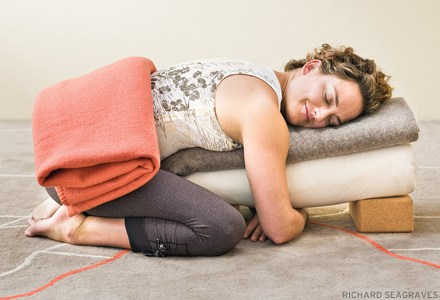 Event Dates:
Friday, September 20, 2019 - 18:00

to

Sunday, September 22, 2019 - 16:00
Price:
Investment: $400. Early bird $325 thru August 15, 2019.
Earn 22 CEU's towards Yoga Alliance registration, or as part of our 200 HR Yoga Studies Alliance Teacher Certification
Establish a strong foundation in Restorative Yoga & principles of Yoga Nidra, in this weekend intensive that offers a clear understanding of the basic science of Restorative Yoga as well as the general application of and alignment within restorative poses.
You will gain deeper understanding of the subtle energy body in restorative poses as well as how to create a restorative experience for the general practitioner. You will leave equipped with tools for building a restorative practice, incorporating them into your group classes, developing personal programs for your private students or patients, and creating your own personal home practice.
This training is ideal for new and experienced yoga teachers as well as mind-body fitness professionals, body workers, nurses, and physical and occupational therapists, social workers, mental health professionals of all kinds, life coaches. Interested yoga practitioners with a desire to learn more about Restorative Yoga are also welcome.
What you can expect:
Basic science of the Relaxation
Foundations of the nervous system and subtle body
Philosophy and applications of Restorative Yoga asanas
The neurological, physical, psychological, and energetic benefits of Restorative Yoga
Use of basic props
Breathing, verbal cueing, and guided relaxation tools
Yoga Nidra
Building a restorative practice and attuning the body, breath, and mind
Required book:
Restorative Yoga for Live by Gail Boorstein Grossman
Schedule:
Friday: 6pm – 9pm
Saturday: 8.30am ~ 12:30pm & 2pm~6.30pm
Sunday: 9am ~ 11.30am & 1pm~ 4pm