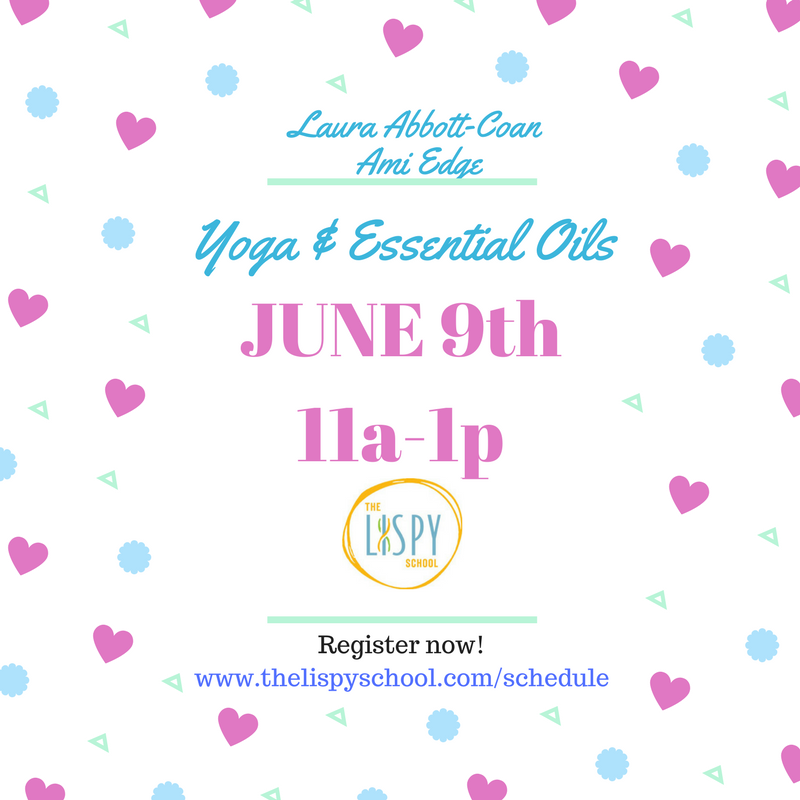 Event Dates:
Saturday, June 9, 2018 - 11:00

to

Sunday, June 10, 2018 - 01:00
"Let go and open to life" is inspired by a variety of fresh summer citrus essential oils and their scents. The crisp uplifting citrus aromas combined with the circular energy movement of this practice are a perfect fit for a seasonal summer vinyasa flow. This workshop will include and focus on side body lengthening and healthy function of the kidneys. Combined with the uplifting qualities of the oils, this practice creates a powerful antidote to our linear world, helps remove the blinders and open peripheral vision."
Schedule:
June 9th, 2018 11 am-1pm, Saturday only
About this Presenter:
Laura has been a yoga practitioner for 15 years. She opened her first yoga studio in 2003, outgrew the space and moved in to a larger space, until eventually that thing called life came crashing in again. In 2010 she had to close her space but remained heart and soul a yogi with so much to share!
Her relationships in the yoga world lead her to Lifeworks – and lucky us, we SNAGGED her!! At LifeWorks, she became a part of our collaborative team – specializing in psychotherapeutic yoga for adults and kids. Laura collaborates with the entire psychotherapy team as well as with the psychotherapeutic yoga team to bring our clients the best comprehensive care available. Her desire to connect, understand, and encourage people to heal, especially children, is innate and her knowledge of mental health and wellness continues to grow and evolve in our relentlessly collaborative system.
Laura spent the first fifteen years of her life in Odessa, Texas (none of those annoying trees to worry about) before moving to Santa Fe, New Mexico with her mother. She swam her way through childhood. From the very first time she can remember she was plunging into the water for a race! Laura swam competitively throughout her school years. A sprinter in the pool as in life, her specialties were the 50 and 100 freestyle.
After graduating high school and rebelling against her parents, she decided not to swim in college, but instead to find the best and quickest degree with the least amount of math….. Hmmmmm, dental hygiene! A career that would allow her to live wherever she wanted, yet still support herself (this is an 18 yr old mind talking!)
Degree in hand and working way before her peers, Laura soon realized it might have been more fun to swim and take her time getting a degree – one that fulfilled her desire to understand the connection between body and mind. This desire would eventually lead to her love of yoga and all things spiritual.
Laura traveled to Europe (where she had always wanted to live), and eventually ended up in Dallas where her brother lived. She settled in to a life that was less than fulfilling. In 2001 she lost her brother to cancer, and from that point on she decided life was too short to work to live. She decided that she wanted to live to work.
After losing her brother she experienced deep healing from yoga and decided it was time to share the healing with others. The presence of yoga had been a constant in her life for many years. Her mother, an avid practitioner and teacher, had planted the seed. Laura studied every book and every teacher that came to Dallas, until she finally found her true teacher, Tias Little. She studied with Tias and his wife Surya in their home town Santa Fe while continuing life in Dallas. She currently studies under Rod Stryker, Para Yoga, Arpita Shah, Om Yoga Journey for Ayurveda, and The Mindful School, mindfulness for children.
She loves the innocent and inquisitive nature of children and tries to bring that back to adults who might have lost that along the way. Her dedication to study and practice keeps her evolving and deepening the journey to self realization.
Laura specializes in psychotherapeutic yoga for adults teens and kids with ADHD, anxiety, depression, eating disorders, grief & loss, OCD, trauma recovery, trichotillomania – among many other things. She is available to meet with you and help you move into a comfortable place, body and mind. She is a senior faculty member and program director at the LISPY school for psychotherapeutic yoga.
Laura is mom to three energetic children and partner to a wonderful husband. When she's not at Lifeologie or LISPY, you will find her carpooling, enjoying her family and friends, and cooking up delicious ayurvedic meals!