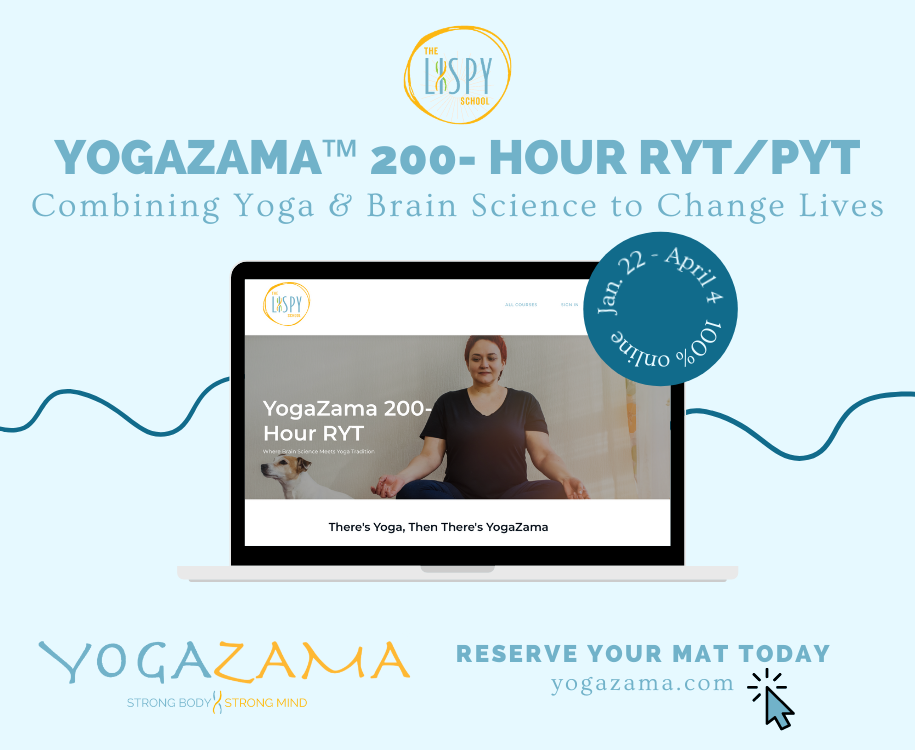 Event Dates:
Friday, January 22, 2021 - 06:00

to

Sunday, April 4, 2021 - 05:00
Price:
$3600 DISCOUNTED RATE for Early Bird
There's Yoga, Then There's YogaZama
शम Zama (n) ~ balance, equanimity (Sanskrit)
YogaZama's 200-hour RYT program balances eastern tradition with western neuroscience to bring its students next-level yoga. 
Based on our psychotherapeutic yoga curriculum at The LISPY School, YogaZama steeps neurobiology and psychology into traditional yoga teacher training — with instruction in asana, pranayama, Ayurveda, mudras and more.
In addition to learning the necessary yoga foundations to be a successful instructor, YogaZama students will also explore:
Biomechanics of Movement and Physiology
Mantra Mindfulness and Meditation
Psychopathology and Yoga
In just 9 weeks you can walk away with a 200-hour RYT that goes deeper than standard yoga training. With YogaZama, you'll learn how to use yoga to transform both the brain and the body. And, in times like these, you know everyone can use some mind-body love.
YogaZama | Strong Body, Strong Mind
Already a yoga therapist or mental health clinician? GREAT! Our YogaZama program will give you new skills designed for use in clinical settings!  Plus you get an additional certification upon completion of this program. 
YogaZama is designed for anyone ready to OPTIMIZE mental health and personal performance for themselves, their clients, their students, and their communities.                               
Our past students have included yoga students of all levels, therapists, counselors, yoga teachers, business coaches, social workers, entrepreneurs, athletes, psychologists, musicians, teachers, and business owners, to name a few.
Our students tend to share a lifelong commitment to learning, a desire to make the world a better place, curiosity about how the human brain and body work, and a calling to help people. Basically, the YogaZama tribe is made up of totally incredible people that you will be so happy you met through this program! 
In short -- YogaZama is perfect for anyone interested in upping their game and changing their world for the better.
This course is offered 100% virtually with live online weekends and replays included to support our busy and global community of students.  Simply log into your LISPY School account to join us virtually or to access the course materials. 
If you live in the Dallas area, you're welcome to join us in-person for the weekends at our LISPY school.  
Schedule:
YogaZama 200 Hour RYT Spring 2021                
Course Intro: Friday, Jan. 22 @ 6 PM CT.Weekend 1: Jan 23-24                
Weekend 2: Jan. 30-31                
Weekend 3: Feb. 6-7                  
-> Break: Feb. 8-14                         
Weekend 4: Feb. 20-21                
Weekend 5: Feb. 27-28              
Weekend 6: March 6-7               
-> Break: March 8-14                   
Weekend 7: March 20-21            
Weekend 8: March 27-28           
Weekend 9: April 3-4 *live attendance required            
Weekends start at 8:30 am central time.  
We break for lunch and then wrap up by 5 pm central time. 
About this Presenter:
Lisa Scheller is a Registered Yoga Teacher (RYT) with Yoga Alliance, which acknowledges the completion of a yoga teacher training with a Registered Yoga School (RYS).