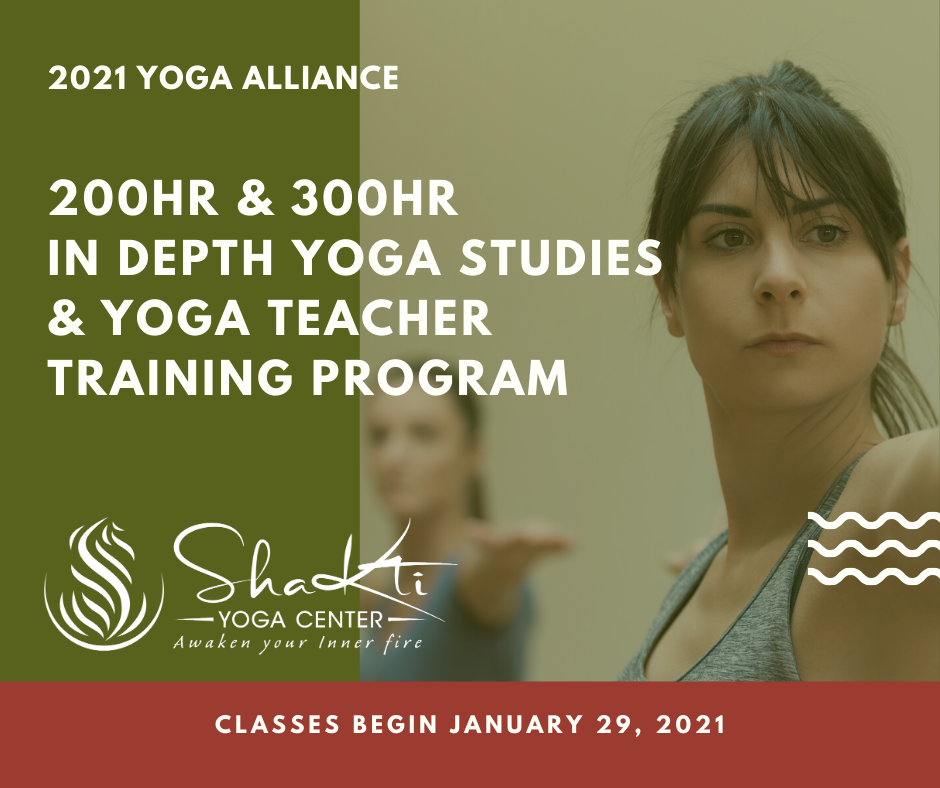 Event Dates:
Friday, January 29, 2021 - 08:30

to

Sunday, October 31, 2021 - 17:30
Event Presenter(s):
Patricia Alonso LMT, E-RYT200, YT500, YACEP & Laura Abbott-Coan E-RYT200, RYT500, YACEP, IAYT
Whether your goal is to teach or simply uncover new depths in your yoga practice, Shakti's 2021In depth yoga studies & Yoga teacher training program is both a first-rate professional training program and powerful personal development course. Take this first step in discovering the deep sense of purpose that unfolds from a strong foundation in your practice. Leave feeling confident, connected and changed for the better!
-------------------------------------------------------
We are proud to present Shakti's 2021 Registered Yoga Alliance School 200HR & 300HR In depth yoga studies & Yoga teacher training program with the option of $199/month payment plan.   The curriculum is structured to deepen your knowledge in application of asana (postures), sequencing, pranayama (breathing techniques), meditation, Sanskrit, yoga philosophy & Ayurveda, and includes over $1,000 USD in bonus gifts.
Enrollment is open NOW!  First session begins on the weekend of January 29, 2021.
We have limited space available in our yoga teacher training program to ensure a quality learning environment.  The format is designed so our students receive plenty of personal feedback thru 1:1 mentorship during the 10 months of the program.
200HR:   A 10-month program focused on developing a personal practice and fulfilling the requirements to become a Yoga Teacher eligible to register with Yoga Alliance 200HR RYT.
300HR:   In this mentorship style program the 200HR graduates will apply the concepts learned in sequencing asana, pranayama and meditation.  Each student will have the opportunity to teach group yoga classes at Shakti Yoga Center followed by feedback from their mentor.  Learn more details of the full scope of the 300HR certification here
THE SYLLABUS IS COMPRISED OF THE FOLLOWING MODULES (All dates are 2021)
Introduction to Yoga and Sanskrit immersion taught by The American Sanskrit Institute  ✤Jan 29 ~ 31 ✤
Principles of breath & movement and introduction to teaching methodology  ✤ Feb 26 ~ 28 ✤
Intensive study of asana (postures) part 1  ✤ Mar 26 ~ 28 ✤
Intensive study of asana (postures) part 2  ✤ April 23 ~ 25 ✤
Study of Vinyasa Krama - Principles of sequencing ✤ May 28 ~ 30 ✤
Principles of observation - Asana adaptation  ✤ June 25 ~ 27 ✤
Foundations of Ayurveda and principles of energetics  ✤ July 23 ~ 25 ✤
Introduction to breath adaptation, pranayama and meditation ✤ Aug 27 ~ 29 ✤
Yoga Philosophy, ethics and business of yoga ✤ Sep 17 ~ 19 ✤
Practicum Yoga teaching & 200HR graduation ✤ Oct 29 ~ 31 ✤
Study of Yoga anatomy on Friday evening session from January thru September.
YOUR BONUS GIFTS ARE
★ Participants are eligible for a 50% discount off their membership at Shakti Yoga Center to support a continuous practice with unlimited classes until the program begins. This discount starts on the day we receive your payment and ends on January 28, 2021.   This is a $39.50 savings per month. Hurry up!  The sooner you register, the more you save.
★ At the time of registration we are providing free of charge the 3 required text books for the training.  A $50 savings.
★ Additionally, all the students attending the 200HR yoga teacher training are eligible to attend unlimited classes at Shakti Yoga Center completely free from January 29, 2021 and thru graduation day October 31, 2021.   This is an $800 savings!!!
BONUS GIFTS UP TO $1,250 VALUE!!!  (Based on the date of your enrollment)
-------------------------------
FACULTY
Schedule:
In our yoga teacher training program, each module will be taught in a monthly immersion weekend beginning January 29th thru October 31st, 2021.  *See below for specific dates .
Fridays: 6pm – 9pm
Saturday & Sunday: AM session 8.30am~ 12.30pm;  Break 12:30~2pm;
PM session 2pm ~ 5.30pm
3 hr credit for home study assignments
Total 20 credit hours per module
About this Presenter:
Laura and Patricia have a combined 40 year experience practicing and studying yoga.  They both completed 500HR of intensive yoga studies under the tutelage of Gary Kraftsow, founder of the America Viniyoga Institute.  Our training comes from the knowledge passed down from Nathamuni's lineage to Sri T. Krishnamacharya; from Krishnamacharya to Desikachar; and from Desikachar to Gary Kraftsow.  
Krishnamacarya was an Indian yoga teacher, Ayurvedic healer and Scholar.  Often referred to as "the father of modern yoga, and he is  is widely regarded as one of the most influential yoga teachers of the 20th century.   Krishnamacharya passed this knowledge directly to his many students including his son Desikachar.   Desikachar later became Gary Kraftsow's teacher sharing this lineage with him.  Both Laura and Patricia have been initiated in this sacred lineage by Gary.
We feel honored to be able to pass down undiluted information from our teacher to our students.   We provide a solid foundation in our Registered Yoga Alliance School to begin the deep study of the yoga tradition.
Yoga for Wellness by Gary Kraftsow
Yoga for Transformation by Gary Kraftsow
Ayurveda:  The science of self healing by Vasant Lad
Cancellation Policy:
Non-refundable administrative cost of $500